Ranked and ready
Big wins, close losses have No. 13 WolfPack ready for upcoming playoffs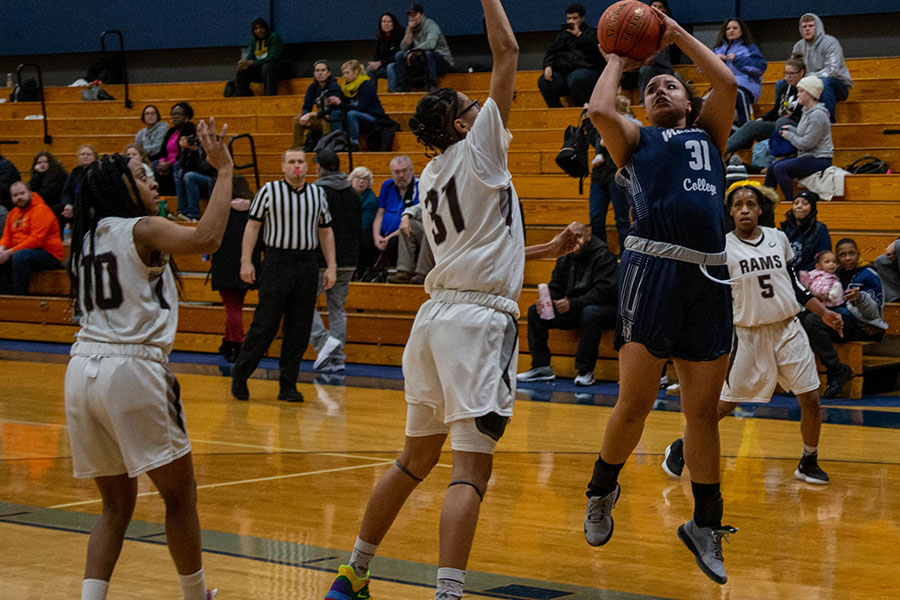 After a hard loss to Rock Valley College, the No. 13 ranked Madison College women's basketball team rolled to an easy win against Harper College on Feb. 1.
Madison College held Harper College to five points while going on to score 44 in the first half. Madison College didn't slow down in the second half going on to score 43 points while holding Harper to 15.
With such a large lead, Madison College head coach Lois Heeren reminded her team to stay focused.
"Just stay focused and be disciplined in the plays that we are running," Heeren said.
Sophomores Mrylena Stewart and Aniah Williams both led the WolfPack in scoring and assists. Both had 15 points and four assists. Freshman Amber Sue Udelhoven was the only other player to score in double-digits contributing 11. Williams also had a team-high seven steals.
"It is hard to play a team like this, to have the energy the entire game. Overall, I was pleased with our performance," Heeren said. "We saw some good things so we can build on that. That is what we want, so we can continue on building on each game."
Madison College continued its winning ways four days later when Wilbur Wright College traveled to Madison. Madison College came out of the gate fast, outscoring Wilbur Wright 22-3 in the first quarter on its way to an 81-47 victory on Feb. 5.
The WolfPack came out a little slower in the second half. Madison outscored Wilbur Wright by only two points in the third quarter, but the lead was still enough that Wilbur Wright would not be able to catch up in the final 10 minutes of the game.
"We played a really good first half," Heeren said. "At halftime we sometimes have this tend to come out flat, and we did a little bit."
The game also marked an important milestone in Williams' career. Williams, a sophomore from Beloit, scored her 1,000th career point in the final home game of her career.
Coming into the game, Williams needed 24 points to reach the 1,000-point mark.
With less than one-minute left in the game Williams drove into the lane and scored the layup to score her 1,001st career point.
"It is just a huge accomplishment for her. She was probably pressing a little bit tonight trying to get that. Kudos to her. I appreciate the rest of the team helping her get that. It truly is a huge accomplishment," Heeren said.
After the game, Williams said she accomplish her mission.
"I feel like I have accomplished my mission. I came into my second year knowing I could do it, but I didn't say anything to anyone until it got down to the wire," Williams said. "It came down to the last couple of games and I knew I could do it. I just keep working hard, coming in early before games. It feels amazing to get it at home. It is what I wanted."
Williams ended the game with 25 points and two steals. Fellow sophomores Lilly Dorman and Stewart also scored in double-digits with 16 and 14 points respectively.
Dorman also had a team high 10 rebounds, securing herself another double-double. Stewart had a team high 4 assist to go along with her 14 points.
The game marked the final home game for Madison College sophomore, Aniah Williams, Lilly Dorman and Mrylena Stewart.
On Feb. 8, Madison College traveled to the College of DuPage and kept doing what it needs to do to secure the first-round bye when it comes to tournament time. Madison cruised to another easy win, winning the game 92-38 against the College of DuPage.
Williams led all scorers with 22 points to go along with her six steals. Dorman was close behind with 17 points to go along with her nine rebounds, six assists, one block, and three steals. Freshman Kylie Esser also had 17 points, nine rebounds, and three steals. Stewart was the final member of the WolfPack to score in double-digits with 14 of her own.
The WolfPack's three game winning streak came to an end of Feb. 12, with an 88-42 loss to Triton College.
Madison was not able to get much production in the game, shooting just 25 percent from the field and 11 percent from 3-point range.
Williams was the only player to score in the double-digits for the WolfPack, Williams had 18 points to go along with her two steals and one block. Freshman Kyianna Baker and Esser both had six rebounds to lead the WolfPack in that category.