Men's basketball follows hot game with 3 losses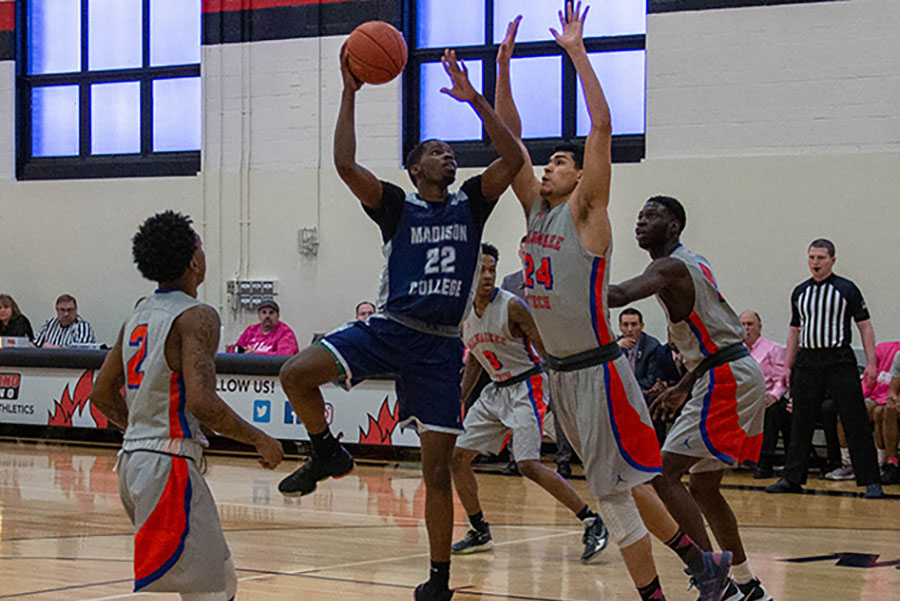 For the first time since Nov. 21, the Madison College men's basketball team scored more than 100 points in a game.
On Feb. 1, Madison College beat Harper College, 108-57.
The bench provided a lift for the WolfPack scoring 64 of the 108 points. Three of the bench players set new career highs in scoring, rebounding, and steals.
"They came in ready to play when their number was called," said Madison College coach Jamal Palmer. "I think they did a great job for us. They don't play a whole lot during the year; this was a game that they could showcase their ability to play."
Freshman Amire Williams-Stribling, Max Keyeski, and DaSean Penn all set new career highs for the WolfPack.
Williams-Stribling set a new career high in points with 23 and in steals with four. Keyeski set a new career high in points with 14 and in rebounds with eight. Penn set a new career high in points with seven.
Three other players scored in double digits for the WolfPack sophomore Shamar Newman came off the bench and scored 20, freshman Malcolm Reed had 12, and sophomore Earl Lewis had 10 to round out the double-digit performers Lewis also had eight rebounds.
Sophomore Davion Washington led the WolfPack in assists with eight and also had four steals.
Leading 56-26 at half, coach Palmer told his team to work on some of the things he wanted them to work on.
"We talked mainly about defense and getting stops, can we get three stops in a row, and can we do that a few times," he said.
Madison College was able to use this game to set some goals going into this game.
"We set some goals as a team, defensive goals, some ball handling trying not to turn it over that much. We achieved some, and some we didn't. It was a game that we felt like we could work on defense. It didn't play out for some of the goals, but we did get most of them," Palmer said.
In their next game on Feb. 5, Madison College lost a heart-breaker to Wilbur Wright College. The game featured six lead changes and six ties, and Madison College wasn't able to hold on to a late lead, losing the game, 74-72.
"I think we wanted to fight; we did fight. We came with some defensive plays, but offensively we had poor shot selection. It was like when the lights were on, we kind of fell apart," Palmer said of the team's final five minutes of play.
Madison College was not able to finish at the rim missing a few easy shots.
"It is tough, we've got to finish plays at the rim and at the foul line. Missing the bunnies hurt us," Palmer said.
The game also marked the final home game for three of the WolfPack players, sophomores Davion Washington, Earl Lewis, and Shamar Newman.
All the sophomores had a good game. Lewis led the WolfPack in scoring, steals, and had a tied in blocks. Lewis had 23 points, six rebounds, two blocks and three steals.
Washington led the team in assists and was tied with Lewis for blocks. Washington ended the game with 20 points, five rebounds, nine assists, two blocks, and two steals. Newman ended the game with five points, six rebounds, three assists, one block and one steal for the WolfPack.
On Feb. 8, the WolfPack lost another close game, falling to the College of DuPage, 55-54, in the team's lowest scoring game of the season.
Down by five at half, 27-22, Madison College rallied to a seven-point lead with 10 minutes left in the game, but it wasn't enough.
Newman led all scorers with 17 points and had a career high nine rebounds while having a perfect 5-5 performance from the free throw line. Lewis contributed 11 points.
Madison College had its largest loss of the season on Feb. 12, when it traveled to Triton College and lost, 123-60.
Madison College was only able to score 19 points in the first half, while Triton College went on to score 58 and take command of the game. The WolfPack only shot 29.1% from the field and 23.3% from behind the 3-point line.
"It was a game where we were just overmatched, athletically, physically, and overall talent. They are a Division I JUCO ranked #13 in the country," Palmer said of Triton College. "We saw a difference in the level of play."
Madison College had two players score in the double-digits. Newman and Lewis combined for 35 points for the WolfPack. Lewis had 18 points and three assists. Newman scored 17 points and had two steals.
"Our guys wanted to compete, but at the end of the day it was just overwhelming, and intimidating. Not to take away from our guys, we wanted to compete, but at the end of the day it was just a little too much for us to handle. It wasn't one of our best performances. We were just overmatched," Palmer said.