Meet the Pack
MEN'S BASKETBALL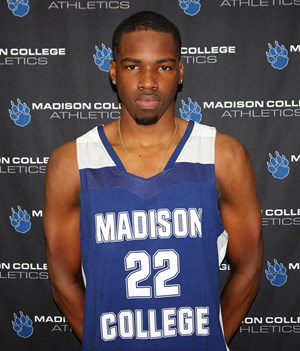 SHAMAR NEWMAN
A sophomore on the Madison College men's basketball team, Shamar Newman played his freshman season at NJCAA Division III Central Lakes College in Brainerd, Minnesota. Newman averaged 5.4 points, and 3.2 rebounds, per game. This season Newman is averaging 11.0 points and 4.3 rebounds per game.
Newman is a native of Milwaukee, where he was a four-year player and two-time letter winner in basketball at Milwaukee Hamilton High School. Named honorable mention all-conference in the Grater Metro Conference as a junior, he averaged 5.9 points per game as a senior.

WOMEN'S BASKETBALL
LILLY DORMAN
A sophomore on the Madison College women's basketball team, Dorman played her freshman season at NJCAA Division III Hibbing Community College. Dorman averaged 4.7 points and 4.5. rebounds per game as a freshman. This season Dorman is averaging 10.2 points and 6.3 rebounds. Dorman was selected NJCAA Region IV player of the Week on Jan. 13 after posting back-to-back double-doubles.
Dorman was a three-time letter winner at Madison East High School, where she averaged 2.9 points and 1.5 rebounds as a senior.