WolfPack post 3-straight wins
Women's basketball team rebounds after loss to 4th-ranked Rock Valley College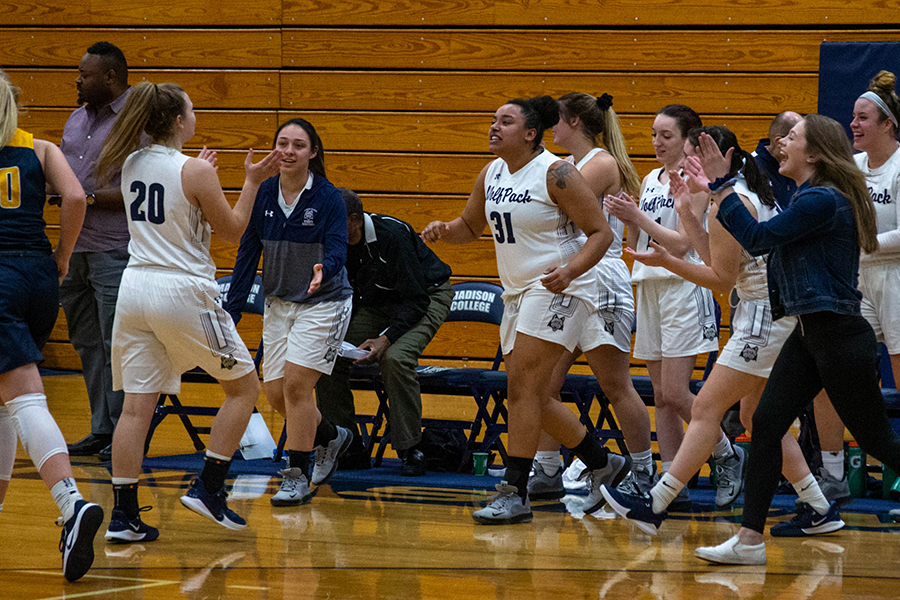 After losing its first two conference games of the season, the Madison College women's basketball team has now rebounded by winning three-straight games.
Most recently, the WolfPack dominated the College of DuPage, 84-41, at home on Jan. 15.
A big first quarter both offensively and defensively got things started. Madison College scored 21 points and held DuPage to just 7 points.
It set the tone for the game as the WolfPack outscored the Chaparrals in every quarter.
Five players scored in double figures for Madison College, led by Olivia Marron and Lilly Dorman, who both scored 14 points. Mrylena Stewart added 13 points, Aniah Williams had 12 and Ceraya Morel netted 11.
Madison College currently has a 3-2 conference record and is 11-6 overall. After a January 18 against Triton College, the WolfPack will host Milwaukee Area Technical College on Jan. 22 for Purgolders Youth Night.
Madison College 80, Wilbur Wright 74
On Jan. 11, Madison College when they traveled to Chicago to face Wilbur Wright College. Tied at 67 at the end of regulation, the WolfPack came back to overtime to win the game 80-74.
Freshman Amber Sue Udelhoven hit the game tying 3-pointer to force overtime for three of her 10 points. Williams had a team-high 21 points to go along with her six assists. Marron had a new career high 20 points, while fellow forward Dorman had 18 points to go along with her 10 rebounds for her fourth career double-double. Bruns had 11 rebounds and three blocks.
Madison College 100, Harper College 15
The WolfPack got its first conference win of the season in historic fashion. The 100-15 victory on January 8 in Palatine, Ill., was the teams largest-margin victory in 16 years.
In addition, the team hit 62.7 percent of its shots, the best shooting effort for the WolfPack this season.
For the second time this season the Madison College held their opponents scoreless in the first quarter. After a 33-0 point first quarter the WolfPack would go onto score 16 points and held Harper College to seven, leading at half 49-7.
All 12 players for the WolfPack would play and score, while five players posted double digits scoring. Freshman Hailey Kaenel had a team-high and career-high 14 points.
Kylie Esser and Williams both had 12 points, while Kyianna Baker and Dorman both scored 10 points. Dorman also posted 10 rebounds give herself another double-double.
Rock Valley 79, Madison College 74
Madison College battled fourth-ranked Rock Valley College tough, but came up short in a 79-74 loss at home on Jan. 4.
The WolfPack took a nine-point lead into half, leading 36-27. At one point they were up by 15, but they couldn't hold off the defending conference champs.
"We played hard. We were up 15 and we had that third quarter and a few minutes of mental lapses that hurt us. They're a very disciplined team, and you can't have mental lapses against a strong disciplined team," Madison College head coach Lois Heeren said about her team's performance.
Rock Valley College outscored the WolfPack 25-22 in the third quarter.
"We let them get to the free throw line too much, we needed some stops instead of fouling them," Heeren said.
Rock Valley would get to the free throw line 31 times and were 67.7% from the free throw line.
"I thought we played hard, we had momentum for us to get up 15 we played with a lot of intensity, I'm proud but I wish we could have gotten that W, but we will learn from this," Heeren said.
Williams scored 24 to lead the WolfPack, while Stewart was close behind with 20 points. Stewart also had seven assists and seven rebounds, and was perfect from the free throw line.
Joliet Junior College 75, Madison College 64
Madison College started out 2020 with a tough 75-64 loss on the road at Joliet Junior College on Jan. 2.
"Joliet was a tough game, we played hard, had great intensity, but we just couldn't shoot the ball well," Heeren said.
The WolfPack were 26-88 for field goals, and 2-21 from behind the arch.
"It was a very uncharacteristic shooting night for us, and that really hurt," Heeren said.
"I thought we played great defense that night, I thought we were still in it in the fourth quarter, it just was not our shooting night, we couldn't find a shooter that night, we couldn't finish low we couldn't finish from three, we had plenty of shots, we got any shots we wanted, but the ball just wouldn't fall."
Williams led all scorers with 19 points, Stewart had 13 points of her own and had a team high five assists.
With conference play starting Heeren says her team is "working on the little things, like rebounding, transition D. We are trying to fine tune things."