Meet the Pack
MEN'S SOCCER
MUHAMMED SALLAH
A freshman defense/midfielder for the Madison College men's soccer team, Muhammed Sallah was named to the Second Team All-North Central Community College Conference and Second Team All-Region IV for the 2019 season.
Sallah played in all 16 and started 12, playing a total of 894 minutes.
Originally from Brikama, Sallah played high school soccer at Sun Prairie High School for one year. His younger brother, Ebrima Sallah, also plays soccer for the WolfPack. Sallah's dream job is a professional soccer player. He is the son of Eleman Sallah.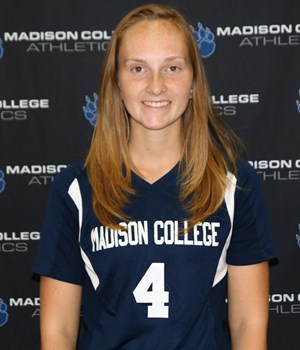 WOMEN'S SOCCER
EMMA STRIEKER
A freshman midfielder for the Madison College women's soccer team, Emma Strieker scored the game's only goal to help the WolfPack win the NJCAA Region IV Tournament. She was also named tournament MVP. Strieker started in nine games for the WolfPack and scored two goals.
She was a two-sport athlete (soccer and cross country) and four-time letter winner at Janesville Parker High School. Strieker registered three goals and five assists as a senior. Her dream job is a graphic designer, and she is the daughter of Judy White and Steve Strieker.