MEET THE PACK
Maddie Scalissi & Will Hamilton
VOLLEYBALL
A sophomore on the Madison College volleyball team, Maddie Scalissi has played libero in all 26 games this season. She has recored 336 digs, 26 aces and 41 assists. Last year, she played in all 29 matches and had 419 digs, 71 assists and 21 aces. She was selected as first team all-region and second team all-conference.
A four-year letter winner in volleyball at Milton High School, she was named team captain and MVP her senior season. She also received second-team all conference honors her senior year. The daughter of Tom and Melissa Scalissi, she is an occupational therapy major.
MEN'S SOCCER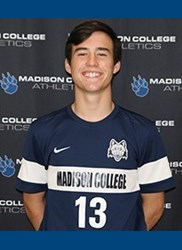 A transfer student from Wartburg College in Iowa, Will Hamilton played in 16 games for Madison College this season, starting all but one of them. He scored two goals and had a team-high eight assists. At Wartburg, he played in 18 games and scored one goal.
Hamilton is a graduate of Badger High School in Lake Geneva, where he was named first-team all conference as a sophomore, junior and senior and was selected honorable mention all-state as a senior. The son of Amy and Mike Hamilton, he is a liberal arts transfer student.