WolfPack men's soccer ready for season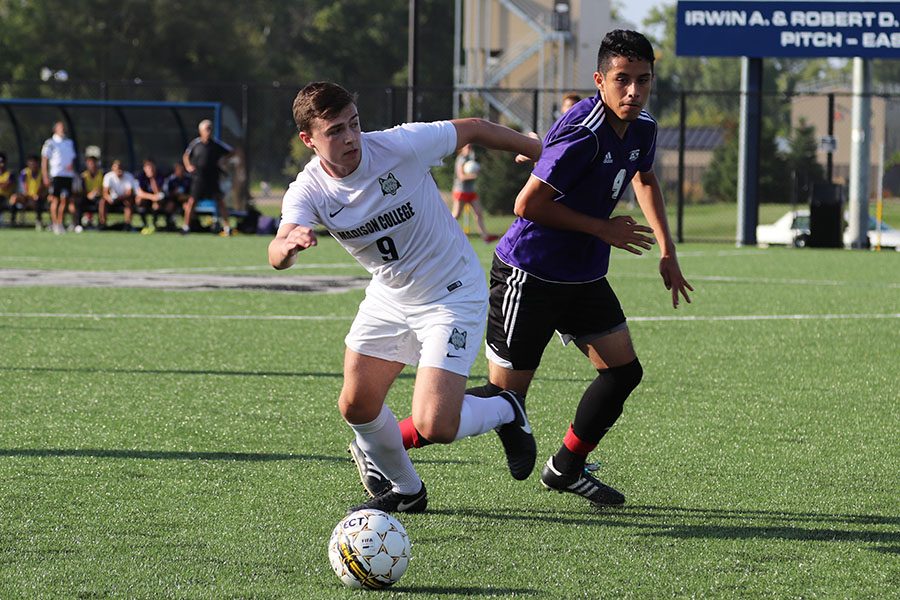 Joseph Craker, Staff Writer
August 29, 2018
While students are still waiting for the start of the semester, the student-athletes have already put in quite a bit of work to get ready for the start of the season. The men's soccer team is no exception.
Coach Cory Sims's side faced off against an ambitious Rockford University in a friendly scrimmage on Tuesday, Aug. 21. Both teams came out to knock the rust off before the season begins in three days. Although there were no linesmen at the game to call offsides, there was a serious approach taken to the game regardless.
Right away the WolfPack's game plan was put into effect, maintain control and kick it around the defense until an opportunity presents itself.
The display of confidence and control between the keeper and back line was exceptional, and it was plain that Sims has done well in the off-season to build the chemistry of his team.
The freshman keeper Saxon LaFlash at first glance lacks the traditional lankiness of the usual brand of goaltenders, but it was clear from the first ball played to him that he preforms as if he is 10 feet tall. All in all, the team was comfortable and level-headed on the ball.
Rockford's strategy seemed quite simple, play the ball in behind the defense. This was quite effective, however – as was mentioned earlier – there were no linesmen at the match to call offsides. A few fans were attempting to fill this role from the bleachers, but the referee quickly put a stop to that.
The WolfPack had some good success on offense as well. There were a few excellent chances in the penalty area, and some great crosses were played in. The midfield skillfully strung passes together to advance the ball down the field, and excellent crosses were played in.
Before the substitutes were brought in, a few passes were too long in behind, but this can most likely just be chalked up to the players feeling a bit fatigued, as getting into full fitness is difficult to do without playing in a live match.
Although it was just an exhibition match, it should be a solid basis for what is to come this year in Madison College men's soccer. Fans should look forward to another successful season brought to fruition by some excellent additions to the squad as well as more experienced players, and perhaps another challenge for the Region IV Championship.
Last year, the team finished with an 11-5-1 overall record and a 6-4 conference record. The WolfPack reached the NJCAA Region IV championship before falling to Triton College on penalty kicks after finishing the match tied, 3-3.
This year, the team is set to open its home season on Sept. 5 at 4 p.m. against Rock Valley College. Prior to that, the team has road matches against Elgin Community College on Aug. 28 and Illinois Valley Community College on Aug. 31.