Former volleyball players turn to coaching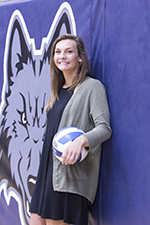 Most people have a hobby that they truly love. For many, that hobby is a beloved sport. While some continue to play the sport long term, others continued to be involved with their sport of choice in a different way: by transitioning into the role of a coach.
Transferring from being a player to a coach gives a different insight on the sport. Changing roles gives one a chance to see things being done differently.
Former players Taylor Genthe and Andrea Bauer are both experiencing this now as assistant coaches for the WolfPack volleyball team. Both Genthe and Bauer played for Madison College during the 2015 and 2016 seasons.
"Head coach Ashley Davis found out that I was still going to school here, and she kind of told me she would put me to work. So I figured I would stick around and help her, since I am already here anyways," said Genthe.
Volleyball is a big part of her life, so Genthe chose to stick with it, but in a different way. Bauer made essentially the same decision.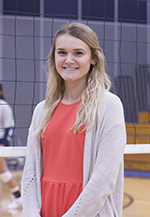 "Just playing two years, I wanted to keep involved with the program and the staff here," said Bauer on why she chose to become an assistant coach. "I really like that we are like a family … everyone works as a team, and everyone respects each other."
The coaches of all the different Madison College teams are able to pick who they would like for assistant coaches. Oftentimes, they select former players.
"We're proud of that, because the students that have been student athletes here and that have come back and involved in the coaching part of that," said Athletic Director Steve Hauser.
Though both assistant coaches are happy to be engaged with the volleyball program, being an assistant coach has its own challenges. Bauer said the biggest challenge initially was that she is nearly the same age as the players.
"I would say being the age difference, of only being two years older," Bauer said of the greatest challenge of coaching. "It is a little bit hard to find that line of when to say what, and when to do what when, and when to let the girls do, and when to jump in."
Genthe has also noticed the age gap being a challenge. "It is kind of weird, because I am a student as well as an employee. When I am at school, it doesn't feel like I am employee, I am just a regular student. Then when I am at practice … it does not feel that much different because I am the same age as them."
Another challenge the assistant coaches have experienced is learning the fine line between friend and coach.
"A challenge of coaching them is that I am friends with them, so it's hard to be their coach and friend at the same time sometimes," Genthe said "As a coach, I would say something one-way and as a friend or as a teammate I may say it a different way. I just have to find that medium of when the appropriate times are to say things one way and say things another way."
It's a challenge the athletic director fully understands.
"That is a challenge, I think that is a part of the growth and maturity is understanding where that separation is. So you can still be friends with teammates that you played with, but yet there are things that are discussed that you can't share, I think that is a part of it," said Hauser.
Despite some of the challenges the new assistant coaches have faced, there are also advantages to having previous players become assistant coaches.
"(Former student athletes) already know the system, a lot of the terminology that I use from our past seasons," said Davis. "It is nice … to have additional folks who know the strong culture we have here at Madison College."
For those interested in becoming an assistant coach after they finish their last season as a student athlete, Davis offered some advice: a good way to start is to reach out to schools or clubs to see if they are looking for coaches, because most places usually are.
Genthe also has some advice, too: "For all student athletes, don't take any practice, game, team bonding, etc., for granted because it will be over in a blink of an eye and there will be nothing you can do about it. I would do anything to be able to put a jersey back on and play on a volleyball court."