Toby Andrews and TeAnn Harms named 'Sportspeople of the Year'
Toby Andrews and TeAnn Harms were recognized as the Madison College Sportspeople of the Year at the athletic department's annual banquet held on April 19 in Redsten Gymnasium.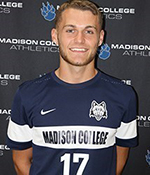 Andrews, a liberal arts transfer student from London, England, played basketball for two seasons before competing in men's soccer this past season. He said he was surprised to receive the award.
"I was honored to get it. I was really shocked," Andrews said.
Andrews led the men's soccer team with 15 goals this season and in game-winning goals at three. He also set a school record for most goals in a single game at five. His efforts led the team to its first conference title in eight years.
In addition, he played basketball for two seasons under the WolfPack, scoring 96 points and grabbing 48 rebounds.
"I guess you can say it is a cool thing to say to people," explained Toby on playing more than one sport. "People say I am a good athlete… Everything I have done I worked hard for it."
He was joined in both sports by his twin brother, Jake. Both of them will be transferring to a school in Hawaii to complete their education and play soccer after this school year ends.
"Toby was an outstanding player who showed incredible leadership as a first-year student athlete in the soccer program," said coach Cory Sims. "Toby's ability to compete definitely brought out the best in everyone and helped lift our team to success."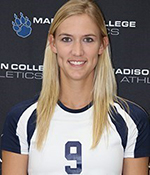 Harms, the winner of the women's award, was a second-year volleyball player from Reedsburg. She was unstoppable even as she battled through injuries. Harms set a school record for most kills in a career with 616, and earned All-Region and First Team All-Conference honors.
"The fact that she accomplished all this while rehabbing from two significant knee injuries, played out of position (at middle blocker) because the team needed her to, and put up numbers that had her nationally ranked with some of the best offensive players in the country makes for a great ending to this chapter of her life," said coach Toby Parker.
At age 24, Harms is not the typical Madison College athlete. Being a little older than her teammates, she often got some friendly teasing. "They call me Grandma … and they make fun of my slow jams," she said. But, after taking six years off between high school, her volleyball abilities have grown.
"I played a lot of very competitive co-ed, with guys that didn't like to lose," she said.
Playing at the men's net height also helped her train to a higher standard, so that when she returned to a women's net, she found that the ball was much easier to control. She also attributes some of her mental toughness to her sister.
"She would say 'Who is the better volleyball player?' She'll say her. Who is the better basketball player? Her.' Basketball, it's true. But any time she says it about volleyball? Not true," Harms said with a smile.
Harms is in the radiography program at Madison College, and she hopes to graduate next year. She plans to be an x-ray technician and is looking forward to her next challenge.