Softball team ends season with 34-17 overall record
WolfPack softball team has closed its season on a high note, winning nine of their last 10 games.
The 'Pack swept Conference Rivals Harper and Milwaukee Tech, and non-conference Dakota Community and Technical College and Sauk Valley Community College, all doubleheaders, as well as splitting a doubleheader with conference rival Triton College.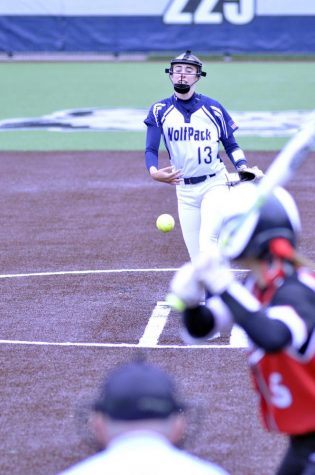 The WolfPack pitchers did well over this stretch. In six of the 10 games they gave up one or fewer runs.
The average margin of victory was 6.8 runs, a giant amount in just 10 games.
The WolfPack finish the regular season with a 34-17 record, (.667) which gives them a better winning percentage than last year. The WolfPack also were 10-4 on the road, which tops last year's 9-5 mark.
WolfPack batters were not quiet this year, and the team posted an .363 team average. The WolfPack scored 345 runs and tallied 18 home runs. Hitters also tallied 143 extra base hits.
First baseman Brooke Heck led the WolfPack batters in average (minimum of 50 at bats) with a .424 mark, one percentage point above centerfielder Brenna Seeber at .423. Heck also led the team in RBIs and total bases.
Lindsay Bollig finished the year with a sky-high .725 slugging percentage, and Ashley Burg led the team in runs scored (42) and hits (57). Breanna Bollig and Kate Gilbertson both had four home runs on the year.
The WolfPack pitching was dominant, striking out 336 batters on the season, roughly one per inning. The most wins were provided by Emily Wiederholt, nine, and the most strikeouts were from Hannah Wienen, 80. The Madison College fielders also posted a .936 fielding percentage, a very solid mark.
Sophomores Breanna Bollig, Brenna Seeber, Hannah Jensen, Lindsay Bollig, Bailey Kratt, Sam Yaeger, and Brooke Heck have all played their final regular season games in WolfPack colors, but are looking forward to the playoffs, where they enjoyed success last year.
To make this season more successful, the WolfPack would have to make it to the national tournament. The 'Pack have set themselves up to do just that, and need to win in their Region IV tournament to advance.