Twins bring unique chemistry to soccer teams
If you got to see both men's and women's soccer teams play this season, you may have noticed that each team has a set of siblings on the squad.
That's unusual enough, but what makes it even more unique is that in both cases, the siblings are twins.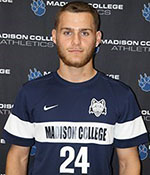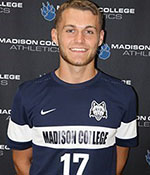 You may have recognized the Andrews twins from the basketball team, they completed their two-year stint on the basketball team last season. What you may not have known was that they play soccer, too.
"I played soccer when I was 4 until about 14," Toby Andrews said. "That's when I stopped, and that is when basketball took over."
He said his decision to play soccer this season was influenced by his father.
"I wanted to play it for my dad as well, because he was a soccer player," Toby Andrews said.
That decision proved to be a good one for the Andrews brothers.
Toby had 15 goals and seven assists this season, while Jake had 14 goals and 14 assists.
They both were selected to the All-North Central Community College Conference first team, and Toby was the first Madison College player to be named conference player of the year.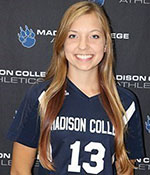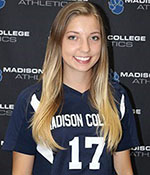 Twins Aja and Zoey Gurney are in their first year playing for the Madison College women's soccer team. Unlike the Andrews brothers, neither of them had played until their final year of high school.
"We have been playing since our senior year of high school in 2014," said Zoey Gurney. "One of our friends played when we were younger. It sounded like a lot of fun, but I never got into it."
But when their Edgerton High School team needed more players, the Gurneys decided to give it a shot.
"It was our school's second year of having a soccer team," Aja Gurney recalled. "They needed people to try out, so I was like, might as well try it now."
Both Zoey and Aja Gurney played defense for the WolfPack this season. Zoey played in 15 of the team's 17 games this year, starting 11 of them, and had two assists. Aja also played in 15 games and had 10 starts.
Being twins has its benefits when being on the same team.
"Naturally, we have a lot of chemistry when playing, and we just seem to know what each other wants when playing, and how each other play without really having to communicate too much," said Jake Andrews.
Toby Andrews expressed a similar sentiment.
"He [Jake] knows what I am going to do, I know what he is going to do. Since when you played together at young age for such a long time. It helps definitely."
Both Aja and Zoey find it that it has brought them closer playing on the same team.
Of course, there is a downside: people getting you confused with your twin.
"My coach yesterday when we were at the game, he said 'It's really bad when I mix you guys up because you are wearing different numbers. I should know who is who,'" Aja Gurney said.
It's the same for the Andrews.
"Our assistant claims he cannot tell the difference, I'm not sure whether I believe him though," Jake Andrews said.
It's not just the coaches who mixes them up, the team their opponents and even the referees get them mixed up.
"First game of the season they [referees] did, the ref called Jake over to speak to him," Toby Andrews recalled. "I was the one who pushed someone, I had to say 'that was me, oh sorry."
Both the Andrews and Gurneys are proud to be twins.
"I really do not know what it's like not to be a twin," said Zoey Gurney.
Toby Andrews said: ""I think it's really cool. It's fun. We've always been on the same team. Especially being on the team on basketball then again for being on the same team for soccer. Playing two different sports, and being on the same team is a lot of fun."