Andrews twins from England enjoyed time with WolfPack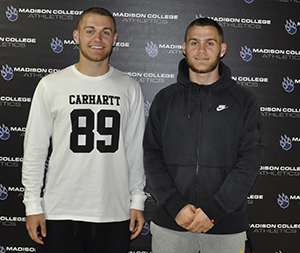 Fans who looked through the Madison College men's basketball program this year would have noticed two unusual things.
First, they'd notice the names Toby Andrews and Jake Andrews and wonder if they were brothers.
Then, they'd see that both of them are from Cambridge, England. It's an hour away from London, but thousands of miles from Madison College.
Toby and Jake Andrews are indeed brothers, twins in fact.
Their decision to play basketball and attend college in the United States was strongly influenced by a friend, who had done just that.
One challenge, though, was the coaches couldn't go to England to watch them play. So they sent videos out to coaches, including Madison College coach Scot Vesterdahl.
"Our high school coach got in touch with him, and he sent out video of us," Jake Andrews said. "Well he sent video of me, so he liked what he saw. Toby went to school in New Jersey last year, and then transferred over here this year."
The twins said they had a great experience playing for Madison College. Toby Andrews played in 22 games and scored a total of 61 points, while Jake Andrews played in 13 games and scored 16 points.
But their experience was about more than just how much playing time they got.
"The team has been like a family, we've been working out everyday and spending time together all the time," Jake Andrews said.
It's also been a cultural experience for the players.
"One thing that we don't have back home is Thanksgiving, actually," Jake Andrews said of the American holiday. "You get to back to different people's houses and you have family, eat a lot of food. It's a good experience being out here for that because we don't have that at home."
Both the Andrews twins and their teammates have tried to do both British and American accents, having a little fun at each other's expense.
There was not culture shock for them because they have been to America before. At first, it was a challenge being so far away from their family, although they FaceTime their family daily despite the six-hour time differences. Their parents have event been to a few of the games during the 2015-16 season.
Overall, they enjoyed the experience of playing basketball at Madison College.
"They were the best coaches we've had," said Toby Andrews, speaking highly of the coaches at Madison College. "Coach V will teach you life lessons and things… and help shape you as a person."
They want to stay in America for at least two years and are looking for a place to transfer, since they used up both of their eligible years of play here at Madison College.
Career-wise, Toby Andrews is trying to figure out what he wants to do. Jake Andrews plans to do something with writing and or geography.
When they are not playing basketball themselves they are following NBA or college basketball.
"I am a Wizard fan," said Toby Andrews.
"Iowa State is our college team, Wisconsin comes in second," added Jake Andrews.
They both admired Branson Koenig's shot at the buzzer in that lead the Badgers to the Sweet 16 game in this year's March Madness tournament. They also have supported their fellow athletes at Madison College by going to volleyball, soccer, softball and baseball games.
"I really like it, it's a cool place. There is always something to do," said Toby Andrews of Madison.
They've enjoyed their time in America, and find that the people have been very friendly. One difference they see is how much Americans value athletics.
"The whole sports culture, is a really big thing here, it's like a way of life," said Toby Andrews.