Women's basketball team wins region IV championship
Madison College upends defending national champs Rock Valley College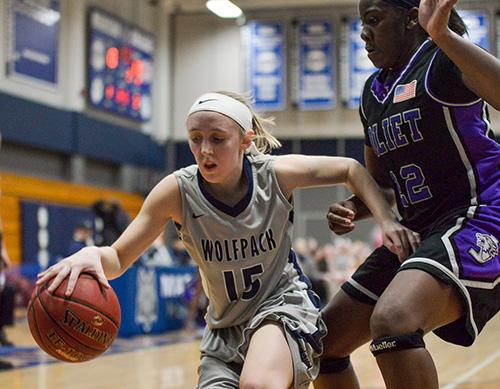 Rock Valley College has been the team to beat in both the North Central Community College Conference and the NJCAA Division III Region IV women's basketball tournament.
Despite splitting regular-season games with Madison College, Rock Valley managed to win the conference title for the sixth straight time.
But Madison College pulled off its biggest win of the season on Feb. 26, upending Rock Valley, 60-55, in the Region IV Championship in Milwaukee to oust the defending national champions from the tournament.
The women's basketball team is now on a roll, having won its last four games to improve its record to 27-3.
Freshman forward Rachel Slaney led Madison College with 21 points, adding eight rebounds and five steals. For her efforts, Slaney was selected as tournament MVP.
Sophomore post player Mandi Sargent added 10 points, eight rebounds and eight blocked shots. Sophomore guard Jenna Endres scored 10 points and was the only other Madison College player in double figures.
Madison College got off to a fast start, taking a 19-8 first quarter lead. They maintained their lead all the way to the third quarter, which ended with the WolfPack leading, 43-32.
Rock Valley closed the gap in the fourth quarter, outscoring Madison College, 21-14, but still came up short.
Defense played a big role for Madison College. The team held Rock Valley's leading scorer Brianna Davis to just 12 points and didn't allow anyone else to score in double figures.
Madison College, ranked fourth in the most recent Division III poll, will host Mid-Michigan Community College on March 1 at 7 p.m. in the District Championship. The winner will advance to the NJCAA Division III National Championship in Lincroft, N.J., on March 10-12.
Rock Valley College finished the season 23-8 overall. The Eagles had won the last four regional championships and three of the last four national tournaments.
Madison College 60, Joliet Junior College 55
Madison College was able to reach the regional championship by beating Joliet Junior College for the third time this year, 60-55, on Feb. 26 in Milwaukee.
The WolfPack was led by Slaney, who scored 24 points and had eight rebounds and six assists. Endres added 14 points and six rebounds, while sophomore forward Megan Petty netted 11 points and four rebounds.
Madison College jumped out to a 20-13 lead at the end of the first quarter and clung to a three-point halftime lead. Joliet Junior College closed the gap to 44-43 by the end of the third quarter. But Madison College was able to outscored Joliet 16-12 in the final quarter to hold on for the win.
Madison College 69, Harper College 33
Madison College concluded the regular season with a dominant 69-33 victory over visiting Harper College on Feb. 22.
Strong defense was key to the easy win. Harper was held to just 13 points in the first half, after scoring just four points in the second quarter.
Endres scored a team high 15 points, her 48th double-digit scoring game in 57 career games. Petty scored 12 points and had five rebounds, while Slaney added 11 points and six rebounds.
Madison College 56, Joliet Junior College 46
Madison College ended a two-game losing streak with a 56-46 victory over Joliet Junior College at home on Feb. 17.
Slaney posted her eighth double-double of the season, scoring 19 points and grabbing 16 rebounds. Endres scored 17 points to help lead the WolfPack.