WolfPack men's basketball responds after tough losses to ranked teams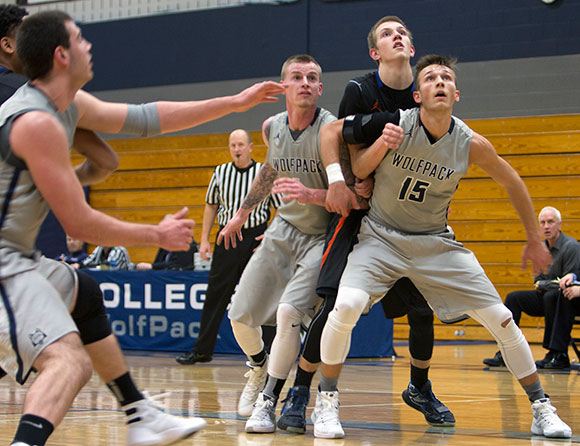 A tough stretch of games against a number of ranked opponents contributed to a four-game losing streak for the Madison College men's basketball team.
But since that mid-January stretch, the WolfPack has been able to win back-to-back games to improve its record to 9-13 overall.
Most recently, the team posted a 69-58 road win over conference opponent Wilbur Wright College on Jan. 30.
Ethan Lurquin led the WolfPack with 15 points and eight rebounds. Kristian Zimmerman scored 14 points and Cortez McCree added 11 points.
While admitting the team struggled in a couple games, Lurquin said the team has continued to work to improve. The defense needs to be vocal he said, and the offense should not be lazy.
Lurquin said coaches remind the team to "play your game, not the scoreboard."
"We tend to play the scoreboard a lot, whether that be up 10 points or not," Lurquin admits.
Team is close on an off the court, Lurquin said, which has helped them rebound from the tough games.
"I like to look at them as my brothers, and I think they all think of me as their brother," Lurquin says about the team's chemistry. On the court they are close, too, enabling them to trust each other during the games.
Madison College is now 3-5 in conference play with six conference games remaining. The team hosts the College of DuPage at 7 p.m. on Feb. 3 and Rock Valley College on Feb. 6.
Madison College 75, Harper College 57
First-year player Markus Tobias had 20 points and 10 rebounds to lead Madison College to victory against Harper College on Jan. 27. The win ended a four-game losing streak and was the WolfPack's first conference road win of the season.
Madison College took control of the game with a strong shooting effort in the second half. The team hit 67 percent of its shots in the second half and connected with four three-pointers.
In addition to Tobias' second double-double of the season, McCree scored 13 points and Lurquin netted 11 points to help lead the team.
"Everyone was getting their points," Lurquin added, saying everyone chipped in to the win equally.
Joliet Junior College 74, Madison College 43
Ninth-ranked Joliet Junior College dominated visiting Madison College, 74-43, on Jan. 23 by holding the WolfPack to a season-low point total.
Madison College's offensive struggles were best illustrated by the fact that no one on the team scored in double-digits in the game. Kristian Zimmerman led the team with nine points.
The WolfPack committed 20 turnovers in the game, allowing Joliet to score 30 points. In addition, the team made just three shots from three-point range.
Milwaukee Area Technical College 73, Madison College 59
Previously-ranked Milwaukee Area Technical College upended host Madison College, 73-59, on Jan. 20 by taking control midway through the second half.
A 9-0 run with a little more than 10 minutes left gave Milwaukee a double-digit lead that it never surrendered.
Tyler Meier led Madison College with a career-high 20 points after hitting 5 of 6 shots from behind the three-point line. Tobias finished with 15 points and nine rebounds, nearly getting a double-double.