Transfer player at home with WolfPack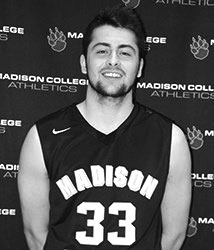 Anyone who follows the Madison College men's basketball team certainly noticed a new player on the floor when games resumed after the holiday break.
Ethan Lurquin was hard to miss.
At 6-foot, 5-inches and 210 pounds, he was one of the biggest players on the court.
If that weren't enough, he was one of the biggest playmakers on the court as well. He scored 18 points in his WolfPack debut on Jan. 2 and has scored in double figures in nine of the 11 games he has played.
Lurqin now leads the team in scoring and rebound average with 17.6 points a game and 5.8 rebounds a game. He has had four games in which he scored 20 or more points.
Lurquin is a transfer form Loras College in Dubuque, Iowa, where he played football on scholarship. He became eligible to play for Madison College in January.
Originally from Poynette, Wis., Lurquin was a multi-sport athlete as youngster.
"Ever since I was a little kid. My dad has always been my coach," Lurquin recalls, saying he liked staying active to and play different sports other than basketball such as football, track and field and baseball.
"Basketball really grew on me, it was starting to get apparent I was getting really good it [basketball] and other sports," says Lurquin.
When it came time to choose a college, he decided the football scholarship was too good to pass up.
Lurquin played football there on scholarship for a year. He regretted it, knowing there was other opportunities.
He said transferring to Madison College was an easy decision. Lurquin had gotten to know Coach Scot Vesterdahl from working with him at camps he attended when he was younger.
It seems like Lurquin has fit into the team very well.
In the first half of the season, the team posted a 3-8 record. Since Lurquin joined in January, the team has had 6-5 record and improved to 9-13 overall.
Lurquin is in the Liberal Arts Transfer program now, and looking to transfer to a four-year college in Minnesota, Illinois or Iowa on a basketball scholarship. He is interested in majoring in psychology at a four-year college somewhere.
"I haven't really decided about what I want to go into in that field, but I know overall I am interested in psychology," he said.
When Lurquin is not doing school or basketball stuff, he likes to hangout with his family and friends. He also really enjoys hanging out with his dog and his two cats as well.