Tied for conference lead
Madison College women's basketball in contention for title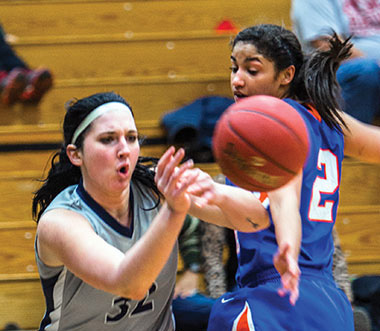 As we enter the final month of the regular season, the Madison College women's basketball team finds itself atop the NJCAA Division III rankings.
A four-game winning streak has allowed the WolfPack pull even with Rock Valley College for the North Central Community College Conference lead.
Madison College jumped out to a fast start in its most recent game as it dominated Harper College, 69-34, in Palatine, Ill., on Jan. 27.
Megan Petty scored eight first-quarter points as Madison College jumped out to a 14-4 lead and never looked back. Petty finished the game with a season-high 14 points.
Jenna Endres led Madison College with 18 points, sinking four three-point shots in the game. Rachel Slaney had 13 points and seven rebounds, while Addison Hemming added 10 points.
Madison College is now 20-1 overall and has a 5-1 conference record. The team will host the College of DuPage on Feb. 3 before getting a home re-match with Rock Valley College on Feb. 6. The game against Rock Valley is also alumni day.
Madison College 53, Joliet Junior College 47
A season-low scoring effort was still enough for Madison College to pick up a 53-47 road victory against Joliet Junior College on Jan. 23.
Playing without All-American guard Taylor Nelson, who was out with a leg injury, the WolfPack struggled offensively. The team committed 17 turnovers and hit just 35 percent of its shots.
Endres scored a game-high 24 points, hitting three 3-point shots and 5 of 6 free throws. Slaney had nine points and 10 rebounds for the WolfPack.
Madison College 80, Milwaukee Area Technical College 69
A strong second quarter gave Madison College the boost it needed for an 80-69 victory over visiting Milwaukee Area Technical College on Jan. 20.
Madison College outscored Milwaukee, 28-10, in the second quarter to take a commanding lead by halftime.
Endres scored 18 points, converting on five three-point shots. Anna Bunyan scored a season-high 12 points, while Addison Hemming added a career-high 11 points.