Men's basketball team finds success with the new year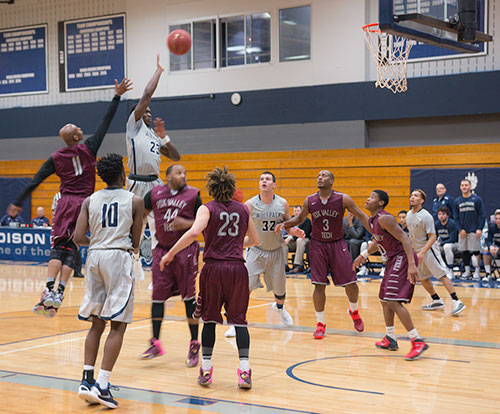 The Madison College men's basketball team got off to a slow start, going 3-8 to open the season. But things have turned around a bit since then, with the team winning four of its first six games in January.
Now standing at 7-10 overall, the team hopes to continue its recent success.
"First semester, we did really good things," said coach Scot Vesterahl. "We were in a lot of games that went into overtime, in games that went down to last minute."
The WolfPack lost three overtime games and a few other close games early in the season. Vesterdahl pointed out that had they pulled those games out, the season record could easily be flipped around.
Madison College's strong start to the new year was accompanied by the arrival of a new player – Ethan Lurquin.
Lurquin, a 6-foot, 5-inch freshman forward from Poyentte, has averaged 20.8 points a game in his first six games, providing the team with a needed offensive boost.
"We're excited for him to join us," Vesterdal said. Lurquin also averages 6.3 rebounds a game.
Moving forward this season, Vesterdal sees plenty of ways for his team to improve.
"For us the largest goal is the turnover thing," Vesterdahl said. "For us I would love to see 10 to 12 turnovers (a game). If we are in that range we are in pretty good shape. If we are above that it will be a little bit difficult."
Vesterdal also said the defense needs work.
"We need to be a little better defensively, not that I think we are bad defensively now," Vesterdahl said. "We are pretty good, but there are times where the defense breaks down. You cannot do that against the No. 1 team in the nation, because I think they will take advantage of that."
The next game at home is at 7:30 p.m. in the Redsten Gymnasium on Wednesday, Jan. 20, against Milwaukee Area Technical College, the first of 10 remaining conference games.
"Our goal is to finish either second or third in the conference," Vesterdal said, adding that this would give his team a good tournament seeding.
Rock Valley College 89, Madison College 77
Lurquin scored 25 points and had seven rebounds as Madison College lost to top-ranked Rock Valley College, 89-77, on Jan. 13. Tyler Meier added 15 points and Kristian Zimmerman had 14.
Madison College 85, UW-Marathon County 63
Madison College took a nine-point lead and never looked back in a 85-63 victory over UW-Marathon County on Jan. 11. Lurquin scored 24 points to lead Madison College, while Cortez McCree scored 17 points for his ninth double-digit game of the season.
College of DuPage 69, Madison College 67
After leading by 15 points with less than seven minutes left in the game, Madison College fell to College of DuPage, 69-67, on Jan. 9 after missing a shot at the buzzer. Lurquin scored 19 points to lead Madison College, while Zimmerman added 18 and Meier scored 13.
Madison College 70, Wilbur Wright College 56
Madison College opened conference play on Jan. 6 with a 70-56 victory over Wilbur Wright College. Lurquin led the team with 24 points and seven rebounds. Zimmerman scored 17 points and Malik Henderson added 11.