Kast lacks height, but brings the energy for WolfPack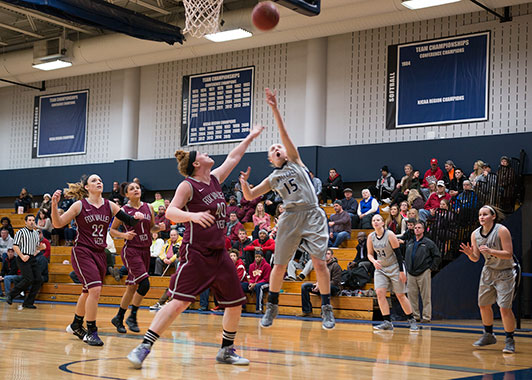 There's a bit of a stereotype in basketball. You've got to be tall, real tall, if you want any chance to play.
Here at Madison College, there's one player who absolutely defies this stereotype. In fact, she blows it right off the court.
Kaitlyn Kast of the WolfPack women's basketball team stands just 5-feet, 2-inches tall and is the team's fourth best scorer with 96 points so far this season.
"She is our energy off the bench – she comes in and really gets our tempo back up and she is a huge spark off the bench for us, as defensively she is phenomenal," said coach Jessica Pelzel.
"Katie does whatever is best for the team. She knows and understands her role and, as the point guard, gets the ball where we need it to go. She is a great floor leader when she is out there for us."
Kast grew up in a family big on basketball.
"My parents were big basketball players when they were younger, too, so they kind of brought that on to me and they helped me out throughout the years and that's why I've been playing," she said.
Playing basketball at Weston High School in Cazenovia, Wis., however, was different story.
"I had a lot of pushback about how I would never be able to do this at this type of level," Kast said.
Kast persevered, though, and in her senior year she scored her 1,000th point.
"That was a huge accomplishment," she said. "That's what I wanted ever since I started out as a freshman. People really looked at me differently and said, hey this is the real deal now, you can really make something out of yourself at (the collegiate) level."
And she is making something out of herself. She's proving height isn't always going to be the thing that makes the player.
"For me, it's not about the tallness. It's about how quick you are and how smart you are when it comes to the game," said Kast. "You just have to have the basketball kind of sense, as you would call it, to be able to understand when it's a good time to shoot, when it's a good time to pass off, when it's a good time to do anything."
In fact, being small has its advantages.
"Being smaller definitely attributes to quickness. That's another stereotype you could say, but it really helps me out in getting past other people to go in for shots," Kast explained. "It's really sneaky! People won't see you."
When asked what her favorite thing about basketball is she does not hesitate.
"I love being a part of the team," she said. "The team is my favorite part. I like everybody on the team and I enjoy playing with them. It's always a team win. That's what makes it so awesome for us how we've been doing to well this year, because we're all together in this and we're all playing well and it really helps each other."
To say the WolfPack women's basketball team is doing well is an understatement. Up until Wednesday they were undefeated and ranked No. 1 in the National Junior College Athletic Association (NJCAA).
Kast is excited about how things are going.
"We're feeling really good. We're heading into conference, really hard conference games coming up here," she says, leaning in, nodding her head. "We want it. Our future is nationals, we want it. We want to make it to nationals. That's our thing this year. That's our 100 percent goal."
As for Kast's own future, she'll be transferring to UW-Plattville where she plans to try-out for the women's basketball team there. She also plans on continuing with her criminal justice degree, which is also very important for her citing a family history of criminal justice work as her inspiration.
"My mom is in the criminal justice system, she works with officers. My Aunt is too, she's a cop. I've grown up around it," Kast said. "Once I am into this field I want to go more into woking as an officer for juveniles I wanna be more of a helper in that kind of way rather than just being a cop, or officer."
Kast may be small, but she talks with integrity and authority. She looks you in the eyes, listens intently and answers with purpose. She is a person of strength and intelligence.
It is obvious she's a woman who has overcome obstacles and has grown from it.
To others out there facing their own upward climbs she says without hesitation, "You really have to stick to what your end goal is in mind, you can't think about what everyone else is going to say, just stick to yourself.
"You can do anything you want to do. That's the way it turns out to be, that the thing you set your mind to, as long as you go for it and don't listen to the rest. You have to overcome that kind of thing when it comes to different stereotypes, or bumps in the road. You have to do that."