Head injuries cast a shadow over the game
Football's violence has been subject of controversy, tragedy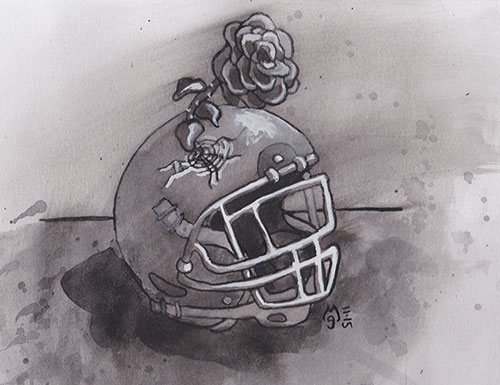 On Nov. 4, Luke Schemm scored two touchdowns for his high school team. Then he suffered a traumatic brain injury during the game that caused his brain to swell and the blood flow to it. Schemm was a 17-year-old senior at Wallace County High when he died on Nov. 5.
Just days before Schemm's passing, the NFL experienced what Bleacher Report referred to as, its worst week injury wise.
Le'Veon Bell, Khiry Robinson, Steve Smith, Reggie Bush, Cameron Wake, and Ricardo Lockette all suffered season ending injuries. Lockette underwent neck surgery on Nov. 2 after being knocked unconscious in a game against the Cowboys on a helmet-to-helmet hit.
You do not have to work hard to imagine the sounds made by the crowd as these young men received their injuries, or the feelings felt as the reality set in something was terribly wrong.
Football in the United States is a tradition, a ways of life. At times, it almost seems to take on the form of religion. At its best, football is an amusing sport in which there is spectacle to be lost in and meaning to be found through its ability to bring people together. At its worst, we get too lost and it blinds us and drives us to lose sight of priority. We become too fixated on the outcome and consequently any sense of the process and responsibility is lost to us.
Since the early days of football, its violence has been a subject of controversy. In 1905, following the death of at least 18 players, President Teddy Roosevelt summoned coaches from Harvard, Yale, and Princeton to figure out ways to make the game safer. The changes were substantial and dramatic, but they did not compromise the essence of the game. First downs were moved from every five yards to every 10. This brought about the creation of the forward pass and wide receiver. These rules spread the game out and prevented the pile ups that resulted in many injuries and fatalities.
Roosevelt knew the game needed to change. The game's participants and leaders knew and acknowledged the game needed to change. Their actions made the game safer. However, in recent years, science has exposed a much more sinister threat to "America's Game."
It was Nigerian Immigrant, Dr. Bennet Omalu, who first discovered Chronic Traumatic Encephalopathy (CTE). The breakthrough came following the death of former Pittsburg Steelers center, Mike Webster. CTE is now believed to have claimed the lives of football players at all levels.
The discovery of CTE has brought about new concerns of head trauma in the game of football and gave new life to the controversy surrounding the game's violence. Just like in 1905, many want reform, many were prepared to abolish the game; unlike 1905, many more, most prominently the games leaders, have simply turned a blind eye and practiced denial.
In recent years, the NFL and the game as a whole has become associated with cover ups and/or whitewashing of the bad press and atrocities. Penn State, Stuebenville High School, Katie Hnida's harrowing story, and the Ray Rice incident are more examples of the desire to win being put ahead of true human suffering. They represent a loss of priority and an overemphasis on what is, for all intents and purposes, a game that I and so many others thoroughly enjoy and love. And yet these are just a few examples.
In 2013, Frontline and ESPN teamed up to produce "League of Denial: The NFL's Concussion Crisis." ESPN would later withdraw their support of the special. ESPN's withdrawal came shortly after a meeting with Roger Goodell where he is said to have expressed extreme dissatisfaction with the special. ESPN has never confirmed that League pressure motivated them to withdraw from the special. However, it reminded many of the cancellation of ESPN's series "Playmakers" in 2003 after just one season, despite being a ratings' hit. The series was cancelled following the NFL taking issue with the shows unflattering depiction of professional football. The cancellation also occurred around the time ESPN was working to acquire Monday Night Football.
The NFL had plenty of reason to be concerned about "League of Denial." It revealed the NFL's attempts to discredit Dr. Bennet Omalu, and their attempts to publish their own research, which declared no link between the game and long-term head trauma. It also revealed that the NFL had known about the concussion issue long before Mike Webster died and had been covering it up.
Since 2002, the issue of player safety and the concussion problem has lingered over the sport of football, remaining the number one talking point each football season. And yet, a talking point, it has remained. To its credit, the league has addressed the issue through such rule changes, such as moving kick offs to the thirty-five yard line, resulting in more touchbacks. It has also strengthened late hit and defenseless player penalties, and made rules regarding the lowering of the head. However, following the years of cover ups and denial on the league's part, these changes seem minor at best.
As many continue to push to make the game safer, Roger Goodell has pushed to extend the season schedule by one or two games, giving players more chances to get hurt. In 2006, Thursday Night Football debuted, sparking controversy amongst players as the Thursday night games gives players less time to recover from injuries. And despite the fact that so many safety concerns go unrecognized here at home, Goodell and the League officials seem determined to have a franchise in London. Some estimate this could occur as soon as 2022.
What makes Goodell and the NFL's attitude towards the player safety and concussion crisis all the more alarming is the message it sends to players, fans, and the parents of kids hoping to play the game. In recent years, Roger Goodell has begun speaking out about the issue. However his goal seems to be more about downplaying the issue and managing people's outrage rather than actually trying to fix it. The bold determination that Roosevelt had in 1905 is not to be found. Football once again needs dramatic and substantial change. As long as the league continues to talk and work around the issue, many parents will continue to sign their kids up for a sport they have been misled to believe is safe.
Since September, eight young men have lost their lives to a game. Eight communities are in mourning; eight families will never be whole again. It seems all too inevitable that this will happen again. What is, tragically, inevitable is that another hero and idol will fall to CTE. The question we must now ask ourselves is; how long will we allow indifference and denial effect our attitudes towards the game? And, how long will we allow the irrational fear of losing a game so many love allow these things to continue?