Women's basketball team has lofty goals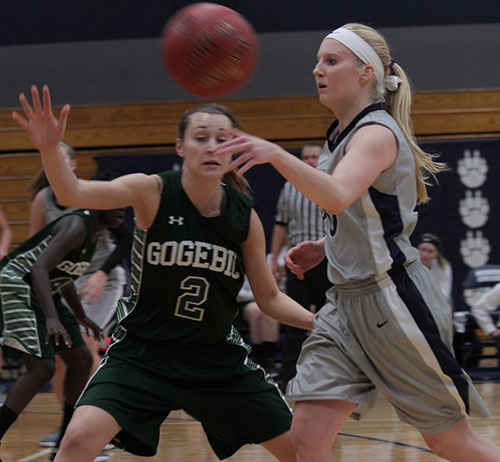 Coach Jessica Pelzel knows the one word most people will use to describe her Madison College women's basketball team this season – tall.
With six players 6-foot tall or taller and two others over 5-11, this has to be one of the tallest teams Pelzel has ever fielded.
Already the team is off to a strong start, with three double-digit wins to open the season.
Returnees Taylor Nelson, Megan Petty, Jenna Endres, Mandi Sargent and Kaitlyn Kast are leading the way to start the season.
Nelson led the team with 17.4 points a game last year and 5.6 rebounds per game. Endres added 13.4 points a game and 3.7 rebounds a year ago, while Petty scored 7.5 points a game and had 17 blocks.
The Clarion recently visited with coach Pelzel about her expectations for this season. Her responses follow.
Question: What would you say are key element to your coaching philosophy?
Pelzel: The key element is defense. We focus on a defense first mentality and believe that our defense will lead to easy offensive possessions.
 
Question: After coming off a good season what changes have you made to further improve the program? 
Pelzel: We haven't made many changes except getting in new faces. We are taller than we have been in the past, so that will be a key feature for us this year.
 
Question: Why do you think the team has been so consistently successful in recent years?
Pelzel: It has everything to do with the players we get in our program. We recruit hard and look to get players maybe out of our league, but they will make the biggest impact. We also get the players to believe in the system.
  
Question: What kinds of roster changes have you made during the off-season? 
Pelzel: We have brought in nine new faces this year and are very tall. They will have to compete for starting spots a well as playing time.
 
Question: How do you feel about the incoming prospects this year?
Pelzel: We have a good incoming class and the headliner is NJCAA Division III top incoming freshman Rachel Slaney from Barneveld. She is a versatile 5-11 player who can do almost everything on the floor.  
Anna Bunyan is also a NJCAA top four-year transfer player who will look to be a force in the post at 6-0. We will be very deep and lots of players will be seeing significant playing time.
 
Question: What do you expect from your returning players?
Pelzel: We will put a lot on our returners because they know the grind of our conference. They also know how to help the freshman get through the long season as well. They will be expected to lead in every aspect of our program.
  
Question: What are the biggest challenges you think the team will face at the beginning of the season?  
Pelzel: We are so young that we will need to get the freshman familiarized with our plays and schemes, as well as each player getting to know the style of their teammates and help them be successful by getting them in a good position to score or use their abilities to their fullest. 
 
Question: Who do you believe are your biggest competitors and why?
Pelzel: Rock Valley and MATC-Milwaukee, as always they will have tough teams and, like every year, they will be prepared to play us.
 
Question: What are your hopes for this upcoming season? 
Pelzel: I really hope we can play as a team and be so great on the defensive end that teams cringe when they see Madison College on their schedule, knowing no basket will be easy.