Volleyball team looks forward to playing in national tourney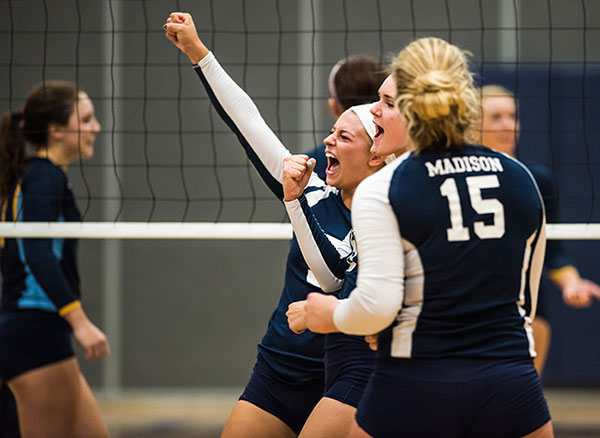 Winning never gets old for the Madison College women's volleyball team. In the past two weeks, it has secured a conference title, won its 25th-straight match and won the regional tournament.
"It's a significant thing for us," Madison College volleyball coach Toby Parker said when discussing what it was like to win a fourth-straight North Central Community College Conference title.
Winning 25 matches in a row is a first for both Parker and the college. His team hopes to add to that streak as it travels to Rochester, Minn., on Nov. 13-14, for the NJCAA Division III National Championship.
If the WolfPack is fortunate enough to win, it would be the team's third-straight national title. No team has ever won the NJCAA Division III volleyball tournament in three consecutive years.
Parker is pleased with how his team came together this season and looks forward to having them compete in the national tournament.
"(It's a) roster of 14 kids, from 14 different cities and backgrounds. For them to come together, … that is something special," Parker said while talking about how his team works so well together. "This is a fun group."
Parker said his team is good at bouncing back from injuries and also coming back from behind in games.
"The team this season has no quit," said Parker, talking about how the team works hard. "The longer a match goes on against Madison, you are in trouble."
The team's strong performance throughout the season earned several players conference recognition. Andrea Bauer and Allie Lehner were named first team all-conference this season. TeAnn Harms, Stevie Winer, and Brianne Breuggen were named second team all-conference. Parker was named conference coach-of-the-year.
Madison College 3, College of Dupage 0
With a three set-sweep over the College of DuPage, 25-19, 31-29, 25-18, the Madison College WolfPack advanced into the Sweet 16 and the regional tournament championship.
Allie Lehner led the team in kills with 13. Andrea Bauer came in second with 10 kills. Abbey Loken also had one ace during the game.
Madison College 3, Rock Valley 0
Another three-set sweep, 25-15, 25-18, 25-15, over Rock Valley College, gave Madison College its third Regional championship title in a row, giving the team a berth in the national tourney.
TeAnn Harms led Madison College in kills with nine, while Andrea Bauer, Allie Lehner and Abbey Loken each added eight kills. Andrea Bauer also got three aces in the match.