Volleyball team still ranked no. 1
Volleyball team survives tough match with Harper, avenges earlier loss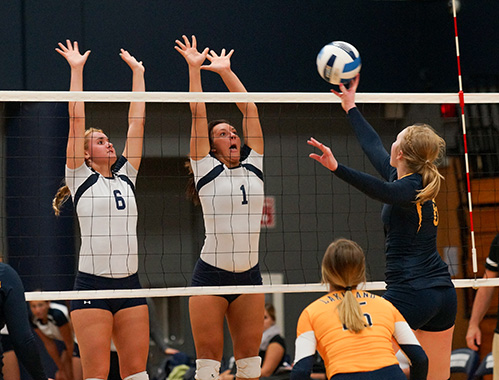 After winning its rematch with Harper College on Sept. 29, the top-ranked Madison College volleyball team has put itself in position to win another conference title and earn a top seed for post-season play.
Madison College has won 18-straight matches, highlighted by its 3-2 thriller against sixth-ranked Harper College at home, to push its record to 21-4 overall and 8-1 in conference play.
Whether or not the WolfPack wins the North Central Community College Conference title will likely be determined when it plays Rock Valley College on Oct. 20, presuming it wins its two conference matches between now and then. Fourth-ranked Rock Valley is the only other conference team with just one loss.
Post-season play will begin on Oct. 28, and the WolfPack will again have to outlast both Harper and Rock Valley to advance to nationals.
Madison College 3, Lakeland College 0
A dominant effort over the Lakeland College JV gave Madison College its 18th-straight victory. The team won 25-15, 25-13, 25-22 on Oct. 8. Allie Lehner had eight kills to lead the team, while Andrea Bauer added seven. Brianne Brueggen had 27 assists.
Madison College 3, College of DuPage 0
A balanced offensive attack helped to lead Madison College to a 25-22, 25-21, 25-21 victory over the College of DuPage on Oct. 6. TeAnn Harms led Madison College with nine kills, while Taylor Genthe added eight and Bauer had six. Brueggen had 25 assists, while Lehner tallied four blocks.
Madison College 3, Milwaukee Area Technical College 0
Taylor Genthe had 10 kills and five aces to lead Madison College past Milwaukee Area Technical College, 25-12, 25-18, 25-5.
Brianna Koopman had 12 assists for the WolfPack, while Stevie Winer added eight digs.
Madison College 3, Harper College 2
A dramatic come-from-behind win enabled Madison College to avenge an earlier loss to Harper College on Sept. 29. The WolfPack rallied back to win after losing the first two sets, 19-25, 23-25, 25-20, 25-21, 15-11.
Three players reached double figures in kills. Harms had 18, while Lehner and Bauer both had 16. Brueggen had a season-high 53 assists in the match, while Winer added 26 digs.