Viscarra has big goals
Women's soccer player enjoys the family-like bond she and her teammates share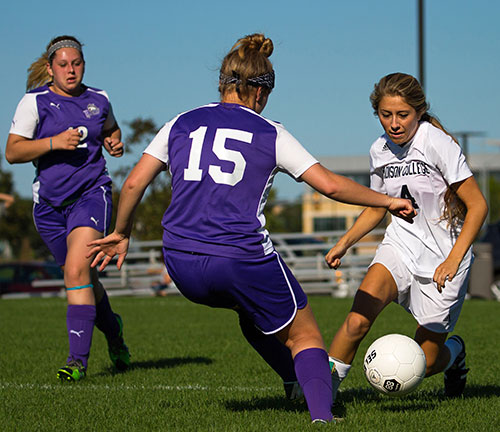 Ana Bon, Staff Writer
September 29, 2015
Madison College has many students who fight each day for a better future. Students with arduous tasks like jobs, extra-curricular activities and schooling.
Arianna Viscarra is one of them.
You can find her on the top of the roster for the Madison College women's soccer team, studying between classes and at work.
Arianna Viscarra is gracious, confident and amicable. She's someone teammates and others feel comfortable confiding in.
"I've been through a lot… anyone could come and talk to me… I'm not going to judge them, I'm not in place to do that, I'm a good advice giver," she admitted in a recent interview.
Viscarra wears No. 4 on the field. Although it's her freshmen year as a WolfPack athlete, this is nothing new to her. She has been kicking soccer balls since she was 2 years old. Soccer has been a passion that grew with her, but never got old.
Viscarra played soccer all four years of high school, making it to varsity her senior year. She is grateful for the strictness and discipline that she acquired from her high school team because it prepared her physically and mentally to be the player that she is now.
Transiting from a high school to a college team has been easier than she expected. She is now tied for the team lead in scoring with seven goals. Madison College has been a good fit for her.
"It's a stress free environment," said Viscarra.
Viscarra said that being raised in a bi-cultural home has influenced a lot of who she is now, especially her involvement with soccer.
Being personally coached by her Bolivian father and receiving abundant support from her mother, whom has Native-American roots, has enforced the strong bond that she gratefully cherishes and shares with them. It has also encouraged her to be the open-minded, friendly person that she is now.
Viscarra strongly encourages every student to join a team, club, or any campus organization. She recommends making friends because they can be like family on campus.
When she is on the field, she has support of her family as spectators. Every time she scores a goal thanks to her dad's tips, she looks for him in the crowd, letting him know that his coaching paid off.
"Oh, my dad told me to do this and it worked, and that's how I scored that goal," said Viscarra, smiling and pointing joyfully to show how she lets her dad know she appreciates his help. "And usually he'll be there to see it."
She mentions that every time she scores, it's a different feeling. Many things rush through her mind in that instant, but it all depends on the score – if it's a wining goal, if they are behind, or tying it up.
She admits go-ahead goals are the best.
"I jump out of my socks and go around and attack my team," she said.
Viscarra said "patience and determination, definitely, and persistence" are characteristics that make up a good athlete.
In addition to soccer, she has two jobs and is a full-time student, hoping to transfer to a film school. Her passion is creating and editing videos.
"Film making is like my one big thing," said Viscarra. "One I really want to start doing is a mini documentary on the work of illegal immigrants here, how much they make for how much they work."
She mentions that most of her time is limited, forcing her to sacrifice activities due to her packed schedule.
But it's a small price to pay to achieve her goals.