Sims, team learn from early games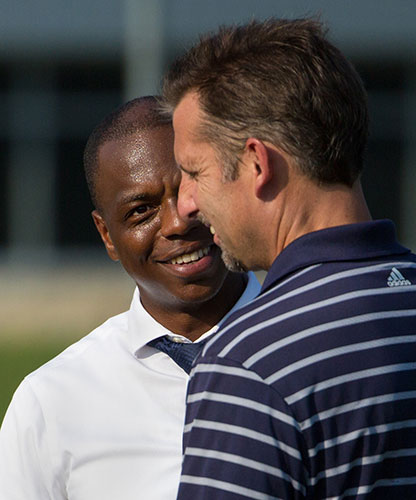 With three wins, two losses and two ties to start the season, Madison College men's soccer coach Cory Sims sees every game as a tool for success.
"It's not so much about winning these games as it is about learning what we need to do to be successful in the long run," Sims said.
The team began the season slow, only scoring a single goal for a 1-1 tie in its home opener against McHenry County College. The team then traveled to Illinois to play Waubonsee Community College and lost, 2-1.
"The biggest key to focus on in these early games is to figure out what works and what doesn't work," Sims says about the stagnant opening games.
And by the dramatic win over UW-Baraboo, it looked as though the team had started to figure it all out.
With 9-2 victory, the Madison College players showed they were finally connecting. The game began with an early goal from Baraboo, but was quickly answered less than 30 seconds later by WolfPack forward Vincenzo Pipitone.
The most notable efforts from the game were from forward Alfredo Ramirez-Pinho, who scored four consecutive goals, and midfielder Connor Waity, with six assists.
"I think we learned a lot from our early games and made the necessary adjustments to come out on top in the game against Baraboo," Sims acknowledged. "A few more things clicked for our squad, but we learned a lot in that game also and have taken those lessons forward with us."
Though the team went on to get shut out by Harper College, some of that may be attributed with traveling early in the season. When asked about the effects of being away, Sims said, "Travel is tough for a lot of reasons. Players miss classes, it eats up the whole day, and the routine is less predictable than playing at home."
Traveling is not the only hindrance the team had to face. With the majority of the team being freshman, balancing school and soccer in their first year can be a rough transition.
"I do my best to prepare players for the rigors of school and soccer, but experience is really the best teacher," Sims said. "I can go on and on about the need to prepare properly, but reality doesn't set in until the first week of classes."
As for the team chemistry between players, a trait the head coach regards as a strong winning attribute, he said, "Like any group of people that work closely together, there will be harmonious times and times of discord. Everyone wants to be a part of the team and contribute. I think for the most part that keeps everyone in a good mood. It's a constant challenge, like every relationship, but seeing the growth in respectful communication has been great to witness."
Regarding their 2-2-2 record, Sims said: "Of course it's nice to win and make a statement to our team and our conference, but just putting together a strong and competitive performance can do that, regardless of the outcome."
The team will play its next three games at home against Triton College on Sept. 16, Malcolm X College on Sept. 20 and Harper College on Sept. 25.