WolfPack men's soccer seeks long-term success
Coach strives to continue to build strong program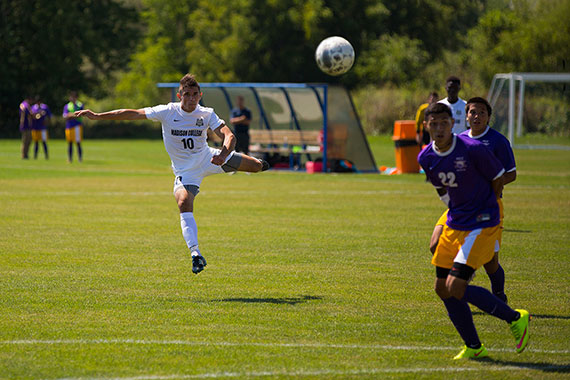 Though the Wolfpack men's soccer team may still be shaking off a loss in the NJCAA Region IV Tournament quarterfinal, head coach Cory Sims seems to have bigger things on his mind.
After finishing 6-8-2 overall and 5-4-1 in their conference, Sims wishes to not only continue to improve on the team's win-loss record but to also build a successful program.
"Long-term thinking is difficult at a two-year school," the head coach admits, "but our goal is to build a program – not just a winning team for one season."
After a freshman-heavy season last year, Sims and his staff are relying on the leadership of his returning players, including team captains Nick Piazza and John Arendt and vice captain Bobby Beaudet, to help contribute to the program's success.
"Some of them have coaching experience, so they really do serve as an extension of the coaching staff when they are on the field," Sims said.
As for incoming players, Sims thinks they will add an extra level of talent and competition.
"I expect that they will be ready to compete, and eager to make their mark on this program and this conference," Sims said. "We have a number of players who can be real difference makers this year."
With the season already underway, challenges for the team are ostensible and Sims believes they lay within the team itself.
"Our conference has become very competitive in recent seasons, and the intangibles such as team chemistry, and hustle, have been the difference-makers," Sims said.
With the programs success in coaches and player's minds and the NJCAA Region IV championship in question, the team has a lot of work ahead in order to balance out these priories.
"Of course we want to win, but my ultimate goal is to help each player improve so they can progress to the next level in their academic and athletic careers," Sims said.
"If there's one thing I'm most excited about, it's the potential of this team as a whole. There's a chance that we can have a really special season."
Madison College opened the season with a 1-1 tie at home against McHenry Community College on Aug. 22. The team will play three straight road games before returning home to play Rock Valley College on Sept. 4.