Volleyball team eyes third title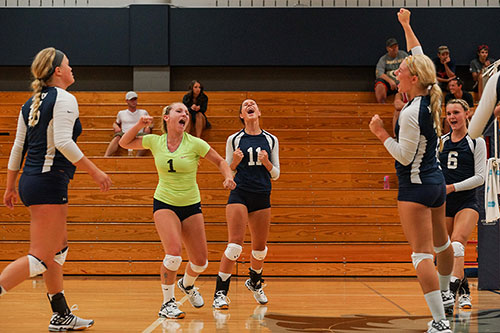 The WolfPack volleyball team begins its season attempting to do what no team has ever done in the history of NJCAA Division III volleyball – win three national championships in a row.
After an impressive 30-3 record in 2014, WolfPack volleyball returns this fall with an almost entirely new team.
One of those new players is TeAnn Harms, a 24 year old freshman from Reedsburg.
Harms, who some players have started to call 'Mom', has been pursued by Madison College since graduating high school in 2009.
"She's certainly not the prototypical freshman," said Coach Toby Parker. "She represents a lot of things for us in terms of a utility player. She's gonna be a handful for some of our opponents this year. It's great that she's here, and we're very much looking forward to finishing the story that we tried to start in '09."
Another newcomer is Kaitlyn Mooney. After playing several seasons of high school and club volleyball Mooney injured her rotator cuff during her senior year and didn't feel ready to try out for last year's team.
"I remembered her from the club side," said Parker. "In passing through the gym this past winter, I recognized her in our intramural program."
"Obviously, I was meant to still play," said Mooney.
According to Parker, Mooney is the first player to come from the intramural program.
Three players are returning from last year's championship team: Brianne Brueggen, Allie Lehner, and Abby Lokken. They are all listed as NJCAA top returning players.
Lehner returns after an injury-plagued first season at Madison College.
"Allie, healthy [is] untouchable. She did a lot of things last year, especially in our regional tournament," said Parker. "One of our opponents had a transfer from a Division I program, NCAA four-year Division I. Allie had her best match of the year against her. Allie gets up for matches like that."
One of the biggest obstacles on the road to a third national championship will be winning the N4C conference. While Madison is ranked first in the latest national poll, fellow conference members Rock Valley and Harper are also in the Top 10. Rock Valley is returning three starters, including two All-Americans. Harper returns five starters from last year.
"Our conference is tough," said Parker. "We have 3-4 teams every year ranked in the Top 10. I don't care what sport, what level, what division, that's hard."
Any team is only as good as the players. Each year the coaching staff looks at dozens of players and winning two national championships has broadened the talent pool.
"Our recent string of success has allowed us to go after players," said Parker. "All-conference type of players, all-state. We find out we're competing with other respectable programs, four year programs. At times they're choosing Madison College."
But that doesn't mean it's easy. Some players are intimidated by the programs success.
"We talked to 80-85 kids while recruiting. Good volleyball players, really good volleyball players. … And they weren't too sure they fit in here," said Parker.
"When you win two national titles in a row you think this recruiting stuff would get easy, but the fact of the matter is that it hasn't."
Coach Parker is cautiously optimistic about the team's ability to win another championship this year.
"This year's team is significantly different. It's not the same offense, it won't be the same defense. Our alumni match on Friday said a lot. We had 12 National Champions on the floor, six of them won it twice, three All-Americans, I expected to get throttled by these guys. Our five-set marathon, we found a way to win. I'm always confident, but I don't know that I expected that outcome."
"I'm very proud of the girls for their response, and two weeks into the season too, they were doing some things, up against the wall there, they're not supposed to be doing yet. I'll remain contained, not get too giddy about it, but we do like this group and we do think there is some potential here to do some things that are special."
The players are less reserved when it comes to their chances.
"I definitely think this group of girls has it in them," said Harms
"With the talent we have, if we play to our potential, we have a shot at the national title again," said Lehner.
The WolfPack's next home game will be on Thursday Sept. 3 at 6 p.m. in the Redsten Gym. Admission is free for students with your OneCard.