Rock Valley holds off WolfPack in men's basketball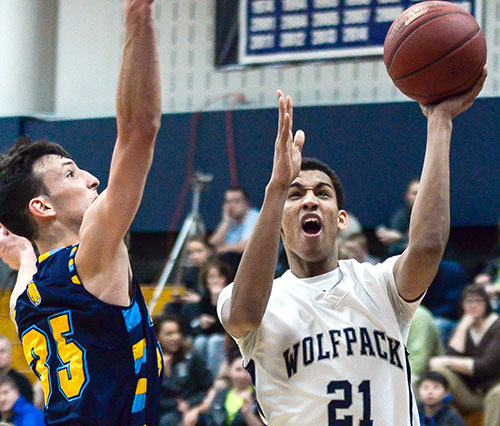 After battling back to within 4 points late in the game, the Madison College men's basketball team came up short in the NJCAA Region IV championship as Rock Valley sank its free throws to secure a 64-54 victory on March 1.
Rock Valley hit 6 of 8 free throws down the stretch as Madison College missed three straight 3-point shots, thwarting a late rally attempt by the WolfPack.
Rock Valley, ranked No. 1, advanced to the National Championship with a 29-3 record, including three victories over Madison College this season.
Madison College finished the season with a 20-11 record, its first winning season since 2010-11 and its best record since finishing 21-8 in 2008-09.
Jerrod Walton and Kristian Zimmerman led the way against Rock Valley. Both scored 12 points, while Walton added 11 rebounds for a double-double. Kendale Nation also had a strong game for the WolfPack, netting 10 points and five rebounds.
Overall, solid free throw shooting and plenty of opportunities helped Rock Valley secure the victory. Rock Valley sank 26 of the 34 free throws it shot in the game. Madison College shot well from the line, but didn't get there as often, hitting 18 of 23 attempts.
Walton, a freshman, ended the season as Madison College's leading scorer and top rebounder. He averaged 15.9 points a game and 7.3 rebounds a game.
Madison College 54, Milwaukee Area Technical College 46
Three players scored in double figures as Madison College posted a 54-46 victory over Milwaukee Area Technical College in the NJCAA Region IV tournament semifinals in Joliet, Ill., on Feb. 28.
Tanner Schieve led the team with 14 points, while Nation scored 11 points and Zimmerman had 10 points.
Madison College never trailed in the second half, but never led by more than 7 points in the game.
Neither team shot particularly well in the second half. Madison College hit 29 percent of its shots (7 of 24), while Milwaukee hit 30 percent (8 of 26). But Madison College hit 3 of 6 of its shots behind the 3-point line, while Milwaukee missed all six it took.
Madison College 72, Mid Michigan Community College 65
A 20-point effort by Walton led Madison College to a 72-65 victory over Mid Michigan Community College in their opening game of the NJCAA Region IV tournament at home on Feb. 25.
Two other WolfPack players scored in double figures in the game. Nation scored 13 points, while Zimmerman added 11 points. Madison College led throughout the second hallf.