Fitness training improves more than your physique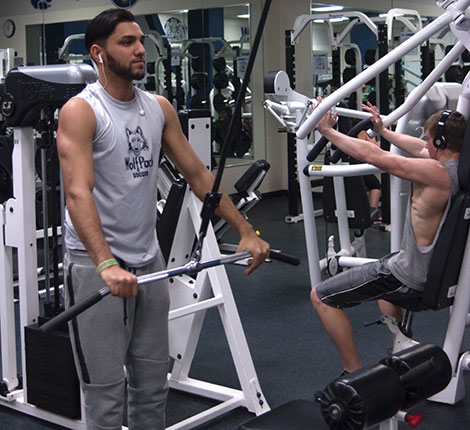 Let's be honest. We all have at least one thing we would like to change or improve on. It is a new year, so why not try something new?
Having a new perspective on life, fasting, starting to pay off school debt etc., are all ideas to help create a better life and a better you. One of the most common resolutions that survive beyond  New Year's Day commitment is a physically active lifestyle.
Being fit is a fad: a trend that has attracted women and men, all shapes and sizes, from youth to elders. Fitness instructors have found ways to convince an increasing number of individuals that choosing grilled foods over fried or adding a 30-60 minute workout to your day can be a benefit to your life.
It could be the media. It could be the quick results from Insanity or Hip hop abs. It could even be the thought of one day having a flat stomach.
More importantly, many people overlook the positive impact a physical routine can have on our mental lifestyle.
Once you are persistent with time in the gym, your body will begin to adjust progressively. Benefits of training include: improving mental acuity, increased energy, reduced stress and anxiety alongside so much more.
So while we are still early in the New Year, let us kill two birds with one stone and be the best you can be physically and mentally. Here are a few gyms that might be of interest and give you that extra push past a one-month resolution.
Pairie Athletic Club
Prairie Athletic Club has continued to keep the fitness scene fresh. Standing as Wisconsin's largest single recreational fitness club, with well over 250,000 square feet, the renovations seem to attract individuals from all over the city. Located in Sun Prairie, only 15 minutes away from the Truax Campus, you can enjoy a variety of activities.
With a large number of cardiovascular machines, free weights, muscle training equipment and group exercise studios, Prairie Athletic Club has continued its expansion year after year, reconstructing the soccer field and three more basketballs courts totaling six, with an indoor track.
The Prairie Athletic Club has made it a point to set a family-like atmosphere from the first time you walk-in. It offers numerous racquetball courts for tournaments, sports bar and grill, and the new coffee shop dedicated to "parents" of the Prairie Athletic Club – Bob & Vel's. But what continuously keeps members looking forward to the summer season is their Outdoor Complex. Prairie Athletic Club has multiple outdoor pools, tiki bars and a large waterpark for the whole family to enjoy – Dolphins Cove.
Student prices up to the age of 24 range from $46 to $52 per month, depending on the plan and how long you intend to sign up. Group fitness classes are included in the dues and immediately upon joining a meeting is set with a personal trainer to assist in setting goals.
For more information, feel free to call at any time during business hours or visit their website.
9Round Fitness Kickboxing
9Round Fitness is a great place for those looking for a trainer-trainee type of workout at a reasonable price. With all certified trainers, you will go through diverse and effective full-body workouts in only 30 minutes. Each workout includes: "kickboxing and boxing techniques through circuit training, strength training, aerobic and anaerobic exercises."
Boxing experience is not required or suggested. Unlike other classes offered at fitness gyms, there is no schedule. As long as you can make it in 30 minutes before closing time, you can hop in any of their nine stations every three minutes and still complete the entire workout through rotations.
Pricing for students is half off with a valid student ID. Other membership options include $365 for the whole year (a dollar a day), $69 for month to month with no contract or $49 for month to month with a contract. Want to learn more? You can visit 9Round and experience your first workout free.
Princeton Club
The well known and locally founded Princeton Club is one of few fitness centers that are open 24 hours a day, seven days a week. Princeton Club has continued to expand with "three multi-million dollar facilities" – two in Madison, one in New Berlin, Wis., and six Xpress Clubs all around the city.
Many choose the Princeton Club for the convenience, equipment and training opportunities. Each large facility includes: a cardiovascular training center, strength training equipment, a natatorium, a large indoor track, basketball courts available for racquetball, volleyball and so much more.
Xpress  clubs only include cardio and strength equipment and are not staffed at all times, however are still open 24 hours – seven days a week.
A free one week trial is available and can be printed directly from the home website. Pricing for access to all clubs is $49 monthly, $25 for strictly Xpress clubs.
There are family and couple packages offered. Each client is awarded two hours of one-on-one training per year with the membership to go along with the various group classes included.
Madison College Fitness Center
If you aren't quite ready to take the step towards a gym membership,  Madison College's Truax and Downtown campuses have amazing gyms available for use. Any student taking a degree credit course has free access. You may not feel comfortable working out among your peers, but you never know who you can meet and what you can accomplish.
The Truax campus fitness center features cardio equipment with entertainment centers as well as elliptical machines, upright bikes, recumbent bikes, weight machines, free weights and more.
The Downtown campus fitness center features weight training and cardiovascular equipment, a basketball court and a locker facility.
Staff is on hand at both facilities to provide free fitness orientations, and they can show you how to use the equipment and assist you with an exercise program.