Wisconsin ski slopes offer wintery fun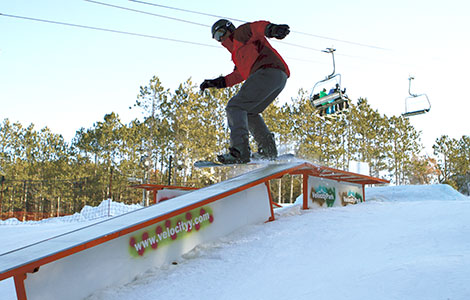 Winter in Wisconsin usually means freezing wind, snow and ice, but it also means its time to get the skis out of the garage, bevel the rust off the edges, and hit the slopes. While it's usually better known for the cross-country skiing terrain, Wisconsin boasts some reasonably good slopes within driving distance of Madison. If you're looking for some decent downhill, Cascade Mountain, located 45 minutes north of Madison offers high speed lifts, rentals, and terrain to satisfy anyone.
A quick jaunt up I-94 and a few turns later places you at the foot of the mountain, where colorful snowsuit-clad people stomp about awkwardly in ski boots, examining maps and enjoying warm drinks around a large fireplace. After acquiring a ticket and securely strapping in, a quick walk to the lift gets you on the way up the mountain. At the top, people split off, following their preferred route down. For the adventurous folks, black diamonds await. If rails and jumps sound more appealing, the terrain park has plenty to offer. Regardless of the chosen route, everyone meets up at the base to take the lift back up and do it all again.
While it might not have the elevation of the Rockies or the steepness of the East coast, Wisconsin definitely has plenty to offer for those looking for some skiing or snowboarding. With a multitude of locations within driving distance of Madison – Cascade and Granite Peak to the north, Alpine Valley to the east, and Tyrol Basin to the south – it should keep all but the most ferocious of the powder seekers satisfied.