Women's basketball team ready to make some noise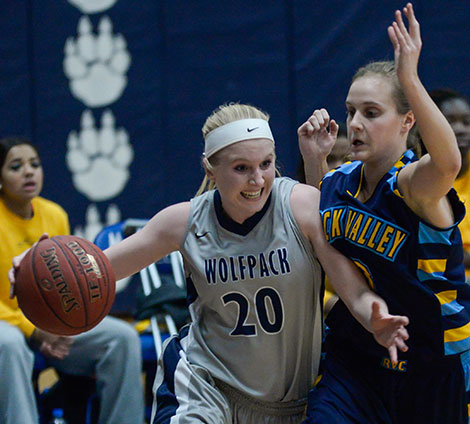 As it entered its game against perennial powerhouse Rock Valley College, the Madison College women's basketball team had reasons to be optimistic.
The team had won seven straight games. It had scored 90 or more points in four of those wins. And it hadn't lost since November.
Despite losing, 87-79, to No. 4 ranked Rock Valley on Jan. 14, Madison College showed it can compete against the best the conference has to offer.
Rock Valley shot very well, hitting 61 percent of its shots, but wasn't able to pull away from the WolfPack.
Madison College was led by Megan Petty, who scored a season high 20 points. Taylor Nelson added 18 points and five rebounds, while Kelly Calhoun had 12 points and eight assists.
Both Petty and Nelson said they felt good about how their team performed against a nationally-ranked team.
"I feel pretty good," Petty said. "We played a really good team, and it showed where we were. We have a lot to work on. And if we work on that and work hard in practice, I think we can come back out with a win."
Nelson liked her team's aggressive attitude against Rock Valley.
"I think we did a really good job of attacking them, because we knew they were going be really feisty and scrappy coming in," Nelson said. "So I think we did a really good job of attacking the lane and finding their weak spots."
One area for improvement both Petty and Nelson mentioned was rebounding. Rock Valley out-rebounded Madison College 39 to 28.
"I feel like we gave them too many second-chance opportunities," Nelson said. "One of our goals in order to win was to box out and I don't think took advantage of boxing out as much as we should.  I think second-chance opportunities really killed us."
Madison College will face Rock Valley once more during the regular season and possibly again in post-season play. Nelson is confident her team's chances if the two meet in the playoffs.
"I hope we see them in the playoffs," she said. "I think we're going to get a lot better and learn from this, so I hope we can face them again and hopefully the outcome will be reversed."
Madison College now stands at 10-4 overall and 2-1 I the conference. It's next home game will be Saturday, Jan. 24, at 1 p.m. as part of the annual Jam The Gym event.
Madison College 94, UW-Marathon County 55
Jenna Endress scored 22 points and Taylor Nelson added 21 as Madison College posted a 94-55 win over UW-Marathon County on Jan. 12.
It was a big night offensively as Madison College shot 52 percent from the field and converted 19 Marathon County turnovers into 29 points. Kelly Calhoun added 11 points and Addison Hemming scored 10 for the WolfPack.
Madison College 103, College of DuPage 46
Madison College had a big night offensively in its 103-46 victory over the College of DuPage on Jan. 10. Five players scored in double figures for the WolPack.
Taylor Nelson led the way with a triple-double, scoring 21 points, grabbing 10 rebounds and adding 11 assists. Also in double figures were Kelly Calhoun (18), Kaitlyn Kast (18), Sydney Harms (17) and Jenna Endres (12).
Madison College 109, Wilbur Wright College 46
Six players scored in double figures and Taylor Nelson posted a quadruple-double as Madison College beat Wilbur Wright College, 109-46, on Jan. 7.
Nelson scored 21 points, had 11 rebounds, 10 assists and 10 steals for the first quadruple-double in team history. Kelly Calhoun led the team with 26 points, while Sydney Harms added 24. Also in double figures were Jenna Endres (11), Kaitlyn Kast (10) and Megan Petty (10).