WolfPack volleyball has plan for success
Coach Toby Parker creates winning teams with strong recruiting, developing depth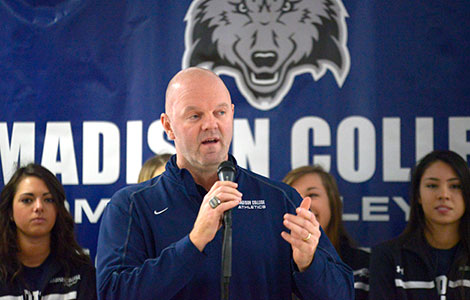 The WolfPack volleyball team has reached the pinnacle of its sport. It has made three national tournament appearances in the last six years, winning the national championship the last two years.
Under coach Toby Parker's lead, the team has won six conference titles in 10 years and posted a 274-71 record in that time, winning an unbelievable 80 percent of its matches.
How can Parker's teams be so consistently successful when players in junior college athletics are only allowed to play a maximum two seasons?
It has to be tough when players circulate through and you're back to ground zero every two years. That's where strong recruiting comes in.
"We've kind of hit our stride with recruiting," Parker said. "We've found a pattern that we are comfortable with in terms of recruiting, and it's not cookie cutter stuff by any means."
Parker and his coaching staff's recruiting success starts with the players they target.  Bringing in polished players is one key to the team's advancement. Fortunately enough, he has been able to bring in players who contribute right away and know the in's and out's of the game.
"We look for kids that can come in and start," Parker said. "We look for kids that can be impact players, that can hit the ground running. We don't have four years to train or develop these kids."
In fact, that's one of his selling points in recruiting – that players who come to Madison College have the chance to play right away. Instead of spending time on the bench behind juniors and seniors, they have the opportunity to advance more quickly.
"You go to a four-year, and they'll tell you, 'we're going to develop you over the first year and maybe into the second year because we have a junior or senior playing ahead of you,'" Parker said.
"We don't do that here. So I'm going to give you a quality of education, you're going to save a ton of money, and you have to start from day one or you have to be an impact player."
Clearly, the quality of education and cost saving can be a big selling point.
"We talk about (the) quality of education, the cost of education, which on average is a savings of about $16,000," Parker said. "If someone said I could give you the exact same thing for $16,000 less, it's not a scholarship but it's a scholarship."
As a result, Parker is able to field a roster full of varsity experienced, all-conference players such as national tournament MVP Katlynn Wirag and all tourney players Hannah Grahn, Mikayla Nigl and Alie Lehner. Like the majority of their teammates, each of them received all-conference honors in high school. Some even received all-state recognition.
Have such a talented and experienced roster puts the squad in a great starting position every year.
"We're able to jump into systems stuff quicker," Parker said. "'This is our team defense. This is our team offense.' We've got a roster full of first team all-conference kids. It saves time to be able to jump right in."
Having such a deep group of talented athletes, the team is also better suited to handle the challenges of a long season.
For example, injuries and illnesses failed to set back the WolfPack this season. One week before the national tournament, five players were sidelined, which proved the value of depth on the roster.
Another key to the team's success has been the leadership and experience shown by the second-year players.
Parker said the sophomores knowledge and understanding of last year's title run helped a lot with the first year players.
"Kids that were a part of it last year knew the steps, knew the banquet, they knew the venue, and they knew the schedule," Parker said. "It was easy for them to relay and kind of introduce (it) to the first year kids before we even got there, that this is what to expect.
"Sometimes that unknown can be a distraction. It wasn't. So the experience was huge, to say the least."
The team's success has been accompanied by special recognition for the team, individual players and Parker. The past two years, Parker was named NJCAA Division III coach of the year. He was recently selected as one of two American Volleyball Coaches Association West Region coaches of the year and is one of eight candidates for the group's two-year college coach of the year award.
With all the personal recognition Parker has received, he remains humble.
"To be honest it's more of a team recognition," Parker said after winning the national championship and Division III coach of the year honors. "The kids had a lot more to do with that than me and I'm proud of them. They knew it. I thanked them right way with tears in my eyes."
Of course, there's another important benefit to the success Parker and his squad has experienced.
"Success doesn't hurt your recruiting," Parker said. "We have a saying here that tradition never graduates."
And over the course of past 10 years, Parker and his players have created a tradition of continued success.