WolfPack women's basketball suffers tough loss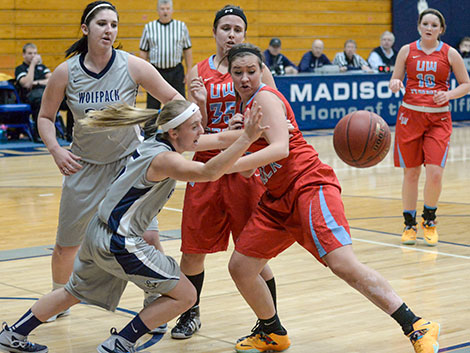 The Madison College women's basketball team saw its two-game winning streak come to an end on Nov. 19 with a disappointing 82-48 loss against the Sauk Valley Community College Skyhawks.
Madison College shot 32 percent from the field as a team and 17 percent beyond the three-point line.
The biggest problem for Madison College was turnovers.  The WolfPack totaled up 32 turnovers, which translated into 34 points for the Skyhawks.
Madison College had just five steals on the night, while the Skyhawks totaled 16. In addition, Madison College was  outrebounded, 51 to 35.
Coach Jessica Pelzel spoke candidly when addressing the loss after the game.
"We just didn't come to play," said Pelzel,  "We used the word out-toughed at halftime, and I think that was a big thing.  I mean, their guards were getting rebounds.  Tomorrow in practice we'll get tough."
Kelly Calhoun was the leading scorer for the WolfPack, with 11 points and was the only player to reach double digits.
Calhoun also added a team-high five rebounds, three assists and two steals. Taylor Nelson, the team's leading scorer on the season, was limited to six points on 2 for 13 shooting from the field.
Overall it was a tough outing for the WolfPack, but hopefully this was just an off night for the team.
Madison College put in an improved performance in its most recent game, despite losing to Elgin Community College, 48-46, on Nov. 22.
The game was a seesaw affair, with both teams exchanging the lead throughout the game.
Madison College did a good job scoring and defending inside, netting 32 points inside the paint. Kelly Calhoun led the WolfPack with 13 points while Taylor Nelson added 10.
But Elgin, a NJCAA Division II team, did most of its damage from outside. Elgin hit 8 of 12 three-point attempts.
The loss dropped Madison College's record to 3-3.
The WolfPack's last victory came on Nov. 12, when it posted a 87-64 win over UW-Rock County at home.
Post player Mandi Sargent scored a double-double for the WolfPack, netting 12 points and 11 rebounds.
Four other players scored in double figures for the WolfPack: Sydney Harms (16), Nelson (14), Jenna Endres (14) and Kaitlyn Kast (13).
Madison College's next home game will be on Dec. 3 against Western Technical College.