Men's basketball starts strong
WolfPack opens the season with five-straight wins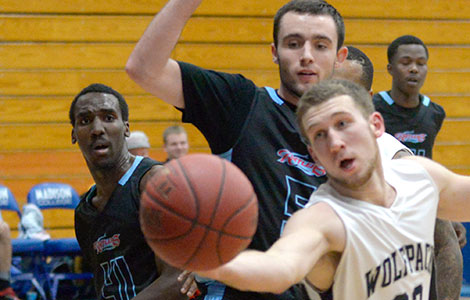 The Madison College men's basketball team is off to the hottest start the program has seen in quite some time.  Sauk Valley Community College felt the heat in the WolfPack's most recent victory, a 71-64 win on Nov. 19.
The last time the WolfPack grounded the Skyhawks was in 2007, making this their second win over the past eight years.
"We haven't beaten Sauk Valley in a long time," said Scot Vesterdahl, coach of the Madison College's men's basketball team.  "When we move the ball like that, we have a chance to do some things."
Jerrod Walton led the WolfPack in scoring with 22 points, but also contributed with a game high of 11 rebounds, six assists, and one block. Walton is averaging 19.4 points, 7.4 rebounds, and three assists per game on the season, and is a big part of the WolfPack's success recent success.
"He's extremely long," said freshman guard Kris Steffrood about Walton. "He's able to get up for boards, able to get out and defend, get steals.  For his size, and his skill set, he's a great player."
Steffrood isn't bad himself. He was the WolfPack's second leading scorer in the game with 14 points.
Madison College played very well as a team, taking advantage of Sauk's 18 turnovers by converting them into 18 points.  The team also displayed an advantage on the offensive boards, scoring 13 second-chance points.
With a 5-1 record already this season, the WolfPack look to go from a team that accumulated nine total wins in the past two seasons, to a team that can compete at a high level.
In another recent game, Walton scored 22 of his 28 points in the second half to lead Madison College past UW-Rock County, 89-88, on Nov. 12.
Trailing 84-79 with just over a minute left, Madison College went on a 10-4 run to steal the victory. Both Walton and Seffrood came up big in the closing seconds.
Walton hit a 3-pointer with 15 seconds left to pull the WolfPack within a point. Seffrod then got sent to the line with 6 seconds remaining and calmly sank both free throws to give his team the lead and ultimately the win.
On Nov. 22, Madison College suffered its first loss of the season despite having a six-point halftime lead, falling 75-67 at Elgin Community College.
Elgin, an NJCAA Division II team, upped its defensive pressure in the second half and limited the WolfPack to just 22 percent shooting. As a result, Madison College was outscored 42-28 in the half.
Three players scored in double figures for the WolfPack. Jerrod Walton led the team with 16 points, while Shane Kanaman added 14 and Brian Bearden  scored 13. Elgin's Ryan Cork led all scorers with 21 points.
After hosting Rochester Community and Technical College on Nov. 25, the team will travel to UW-Waukesha on Nov. 29. The WolfPack return home on Dec. 3 against Western Technical College.