WolfPack women's soccer nears end of season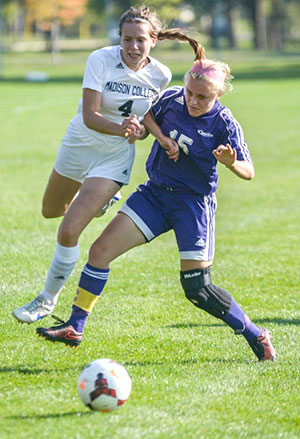 Regardless of how its last three regular-season matches turn out, Madison College's inaugural women's soccer season has been a success.
The team has won four matches. If it wins two of its final three matches, it could finish the year with a .500 record.
Not bad for a team that hadn't ever played a game before.
Madison College won its most recent game, a 4-1 victory at home over conference foe Triton College on Oct. 3. The WolfPack now has a 4-5-1 overall record and a 3-4 record in conference play.
The team has games remaining against College of DuPage on Oct. 15, Harper College on Oct. 17 and Joliet Junior College on Oct. 22.
Elizabeth Conejo led the WolfPack to victory in its most recent game, with three goals and an assist against Triton College.
Conejo scored in th 17th and 25th minutes to give Madison College an early, 2-0, lead. Then, a little more than a minute after Triton College scored to cut the lead to 2-1, Tynia Goldensoph scored off a pass from Conejo to give the WolfPack a 3-1 halftime lead.
Conejo scored the games only goal of the second half off a pass from Miho Frankowski in the 63rd minute of the game. After 10 games, Conejo now leads the WolfPack with 14 goals.
Madison College outshot Triton College, 22-14, in the game, and WolfPack goalie Stephanie Myszkowski made 10 saves.