Up and down men's soccer season
WolfPack squad looks for more steady play in final matches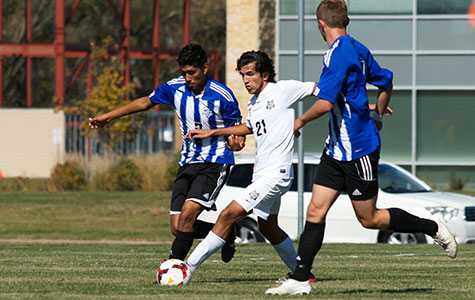 The last two weeks have been a roller coaster for the Madison College men's soccer team. After dropping three consecutive road games, each by one goal, Madison College came home and displayed their best overall performance of the season, taking down UW-Baraboo, 4-0, on Oct. 4 in a contest where they could have scored even more.
"We played a great game." said Muhammed Jarjue, who scored the final two goals of the game, "We lost our last two conference games. … Today we had to come in and step up, and we did."
Madison College kept the pressure on all game, forcing Baraboo into mistakes and increasing the workload for their goalie. Tim Kennedy and Harley Schultz each contributed a goal in the first half before Jarjue nailed in two in the second to seal it away.
Even with the good play on all sides offensively and defensively, the game could have been even more one sided. Madison College missed several opportunities to put the ball in the goal. Nonetheless, the team still dominated the game.
"We're moving the ball a bit more," said WolfPack coach Cory Simms. "Obviously we have to work on our finishing… but overall a good performance from a lot of guys."
The roller coaster continued on Oct. 8 when Madison College took a nosedive against Joliet, losing by a score of 4-1. It was the biggest point differential in a loss for Madison College this year.
When asked what his team needs to work on, Simms stressed that they need to work on consistency and closing out games, something this team has failed to do thus far, despite so many close finishes.
"We tend to dominate for parts of a game and then sort of fade away a little bit and allow them to sneak back in," he said.
"Really just focusing on the fluidity of movement of all players. We're getting there… It's just about being consistent."
On Oct. 11, Madison College played Dakota County Technical College and lost, 2-0. The WolfPack took eight shots on goal during the match, but were unable to convert.
Madison College is now 5-8-1 overall and 4-4-1 in conference play. The last game of the regular season for Madison College is on Oct. 15 at Redden Park against MATC-Milwaulkee, who Madison College beat on the road 1-0 earlier this season.
Playoffs begin on Saturday, Oct. 18, although seeding has yet to be determined.