WolfPack women's soccer team scores the program's first victory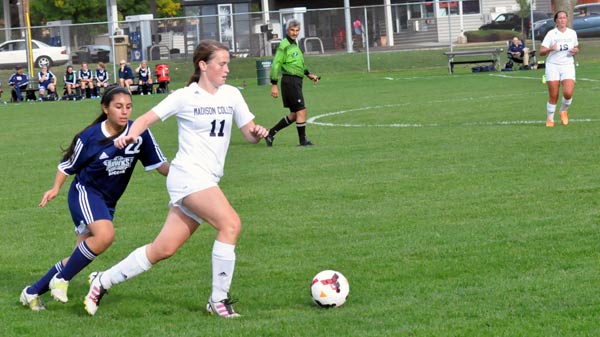 The Madison College womens soccer team won its first game in program history on Sept. 24. The WolfPack defeated the Triton Trojans, 3-0, in the home contest at Warner Park.
Elizabeth Conejo showcased her considerable speed as she scored two unassisted goals at the 41- and 66-minute marks to lead the way for the WolfPack. Zoe Messing added the second goal of the match at the 54th minute and helped set the tone for the rest of the match.
"I am just really proud. Each one of these players has grown so much every single week," said Coach Tory Pomeroy. "Tonight is not about me, its about the whole program"
After a tight contest in the first half Madison College came out strong and controlled the ball for much of the second half. Goalie Stephanie Myszkowski stopped all 11 shots on goal during the contest.
"I've told them to not dwell on the past or not obsess about history," said Pomeroy "I want them to forge history. And that's what they did tonight."
Madison College hopes to keep the ball rolling in the right direction and continue building on their success throughout the season, and the team is off to a good start.
The WolfPack followed up its first win with a 5-0 victory over Joliet Junior College on Sept. 26. Miho Frankowski and Natalie Meyer both scored first half goals to give their team the lead, and Conejo put things away with three more goals in the second half.
Madison College added another win over Moraine Valley Community College on Sept. 28. The WolfPack scored three times in the first half behind two goals by Kelly Sullivan and one by Conejo. The team now has a 3-4-1 record with five matches remaining.