Volleyball team responds quickly to its second loss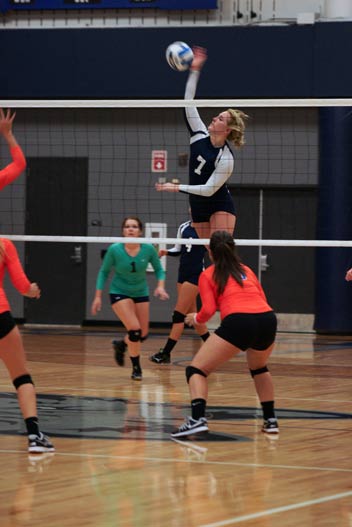 For the second straight year, a strong Madison College volleyball team has gotten tripped up in the the Harper College Invitational.
The WolfPack won their first two matches of the Sept. 20 invitational, but suffered a 3-1 loss to Waubonsee Community College before beating Rochester in their final game.
The loss was the team's second of the season, and should be no reason to worry about the team's future.
Last year's team was defeated in their third and final match in the Harper Invitational. The loss was then followed with a 21-game winning streak and a National Championship.
The bounce-back 3-1 victory in their final match of the Harper Invitational came against No. 2-ranked Rochester, a team that boasted a 13-3 overall record.
Since that victory, the WolfPack have beaten Clarke Univeristy JV, 3-1, and conference foe Joliet Junior College, 3-1.
On Sept. 16, seemed to be a weary-less win for the WolfPack, yet a troubled loss for Triton College. Madison College swept 3-0 with sets 25-9, 25-11 and 25-9. While sophomore Allison Massey shut it down with seven aces. Freshmen Abbey Loken and Brianne Brueggen showed out with over 10 kills and more than 20 assists.
Welcoming in state rival, Milwaukee Area Technical College on Sept. 18 the WolfPack celebrated another win. With key players Brooke Gilbertson and Mikayla Nigl watching from the sideline, the team quickly had to adjust the line-up and cope with the change.  They did just that, easing through the final two sets, 25-6 and 25-9.
Madison College's  record now stands at 18-2 overall and 6-0 in the N4C conference. The team's next match will be on Oct. 7 at Rock Valley College. With returning champions Sydney Clarson leading the division in digs, Katlynn Wirag and Hannah Grahn in top 5 for kills and assists per set, the team appears to be headed in the right direction.