WolfPack men's soccer victorious in first two conference matches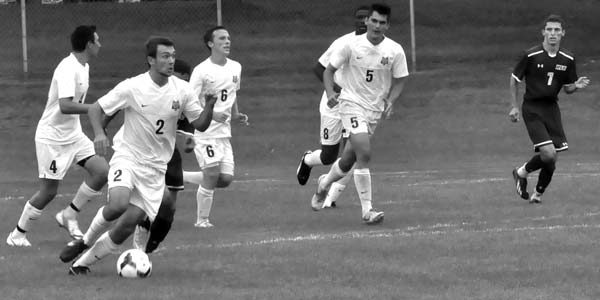 Tyler Richter / Clarion
For the second consecutive week, Madison College has pulled out a win against a tough opponent despite a lack-luster performance.
Tim Kennedy scored the only goal of both games, delivering a win over  Rock Valley Community College on Sept. 10 and Triton College on Sept. 3.
Despite beating Triton College for the first time in nine years, both Kennedy and coach Corey Sims were disappointed with the team's performance.
"The second half was worse than the first half," said Kennedy. "Luckily we got that goal in the first half.  There's definitely room for improvement- definitely room for improvement."
The team's struggles looked similar to those in the game against Triton, where
they simply could not get anything going, struggling to put series together, and couldn't get shots to go in.
"We're happy to get the win, we're happy that we're 2-0 because that's a good place to be at the beginning of the season, but it wasn't anything where we're walking around with our heads held high because we played them off the field," said Sims.
Despite the expressed frustrations, the win over Triton bears special significance. Not only was it Madison College's first win against them in nine years, but the last time Triton lost in conference during the regular season was in 2009 to the College of Dupage, the year Madison College joined the N4C conference. Last year Madison College almost took Triton down at home, but fell short 3-2.
In between wins, Madison College dropped one to St. Mary's University JV by a score of 4-2, despite an early goal by Mathew Bordeau. St. Mary's strung together four consecutive goals after that, and a late goal by Andrew Zimmerman wasn't enough to stave off defeat.
In their third nonconference game of the season, Madison College beat Harper College 2-1 on Sept. 12 with goals by Mikel Appaiah and Yacouba Koita, marking the program's first 3-0 conference start since joining the N4C. The win also puts Madison College at 3-3 overall. Madison College faces Joliet at home on Wednesday, Sept. 17, followed by four straight in-conference road games.