Volleyball team ranked and ready
WolfPack starts season ranked No. 1 in NJCAA Division III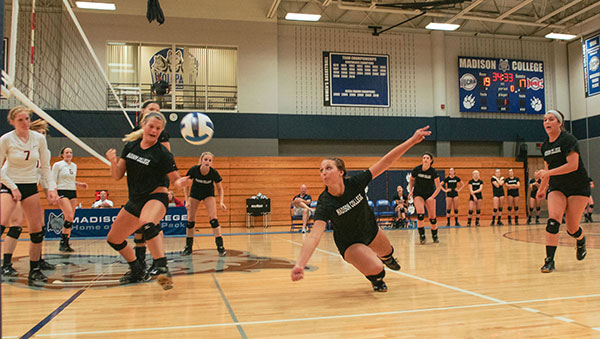 The Madison College volleyball team is starting the season right where it left off last year – ranked No. 1 in the nation.
Last year, Madison College posted a 34-3 record and won the NJCAA Division III national championship, the first national title in program history.
The WolfPack now enters this season top-ranked team in the NJCAA Division III pre-season poll.
Six players return from last year's squad, including starters Hannah Grahn and Mikayla Nigl, who were named to the national championship all-tournament team last year. Grahn will set for the squad this year and Nigl will play middle blocker.
They are joined by transfer student Tegan Van Moer, an outside hitter who played for Ridgewater College last season. Ridgewater College was the team Madison College defeated for the national title.
Other returnees include defensive specialist Sydney Clarson and hitters Courtney Frank, Katlynn Wirag and Brooke Gilbertson.
They will have the tough task of replacing three All-American players and the national championship MVP Terissa Bierd, all of whom completed their second season with the team.
Defensive specialist Vanessa Clarson and middle blocker Elizabeth Mahsem were first-team All-Americans, while Peyton Klein earned second-team honors.
Madison College will again be coached by Toby Parker, who is entering his 10th season with the team. During Parker's tenure, the team has posted a 244-68 record, won five conference championships and two regional championships, finished as national runners-up (2009) and won the national title.
The team opened its season by winning the College of DuPage Invitational on Aug. 22-23.