Baseball coach likes potential of this year's team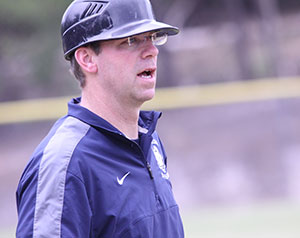 It's mid March, and in an office overflowing with baseball gear, Coach Mike Davenport is going over strategy for the Madison College baseball team's first game. Outside, it's 34 degrees and Robin Roberts Field is only beginning to thaw following a brutal winter.
Expectations are high this year after coming so close to a National Title the past three years, and Davenport's team can't wait to get out of the gym and back on that diamond to build on last year's success.
Ten years ago Davenport took over the Madison College baseball program and was an instant success going to the NCJAA Division II World Series in his first year. When looking back at his hiring, Daveport recalls that "the timing was perfect here."
Kishwaukee was going through some administrative changes and Davenport was uncertain about his future. Madison College was doing some retooling with their roster as well. This transaction paid off for both sides.
The 1999 NJCAA Division II National Coach-of-the-Year was convinced by his friend, current WolfPack Softball Coach Leo Kalinowski, to talk to Madison College about its baseball coach opening. Daveport said Kalinowki called him numerous times telling him to look in to Madison College. Davenport said, "He called often and caught me on the right day." In 2005 Davenport agreed to talk to Athletic Director Steve Hauser and, "after a five or ten minute conversation I could hear his passion for what he did and I felt like it matched what I wanted."
The move was made and Madison College landed its new coach.
Since then the team has gone 373-146-2 (.719) and has been to four straight NCJAA Division II World Series, finishing third, fourth, and third respectively in the past three years.
This year's team has its sights set high. Davenport keeps his team focused on the task at hand. There is no doubt though, this is a team that could win the National Championship this year.
"We would love to win a National Championship," he said. "We've come close enough that it's something that could happen. But it's a really competitive level so for us we just try to make it as simple as try to win the first tournament."
The roster returns some key players from last year and the new players coming in could help elevate an already strong defensive team to an elite one.
"Returning wise we are probably strongest at the top of our pitching staff and in our outfield," Davenport said. The Madison College pitching staff has a lot of talent this year. Davenport thinks this could potentially be his best staff during his entire career at Madison College. So long as his players can avoid injury. Last year, the WolfPack had two starting pitchers go down and were unable to pitch in the final tournament.
Davenport thinks this team can contend if they can overcome the obstacles of a season. Things like injuries, fatigue, and slumps. It seems for every baseball player there are times when you just can't hit the ball or even get on base. Pitchers can't find the strike zone sometimes or the ball won't break on its way to home plate.
"Feeling like you're a talented team is one thing but I think the thing that has set us apart the past few years is that we've had guys that can deal with adversity," Davenport said. All teams must persevere through countless obstacles en route to a championship and this team will be no different.
To help minimize his team's slumps during the season Davenport coaches his players to get into good habits.
"Routine is really a large part of it," he said. "So we ask our guys to be in the same spots to take ground balls. Do the same things pre-pitch. In terms of timing and what they're doing with their breath. A lot of it has to do with just the ritual."
One thing that remains constant in junior college baseball is turnover. Every year a team is half new players and half returning. Davenport loves this part of the job though. Talking about junior college compared to other levels of baseball he says, "Junior College fits me as a coach. I kid often that if a player has to be here for two or even three years that's definitely enough of me. … I like having a fresh group in every year that's about half the team. Trying to have young guys work with each other and teach each other in a lot of ways is very challenging, but very rewarding also."
Davenport truly cares for the futures of his players and works hard to connect them with other schools and opportunities when the leave Madison College. He recalls only a few players who have left his team that didn't do so with a scholarship offer to play baseball or go to school at another institution. This goes all the way back to his days at Kishwaukee as well, where over his last six years at the program every one of his players received a scholarship offer.
Helping players reach their full potential has always been central to what Davenport does as a coach. He picked up the drive to help others improve from a former coach.
"The coach that I played for at Kishwaukee was hard-nosed to say the least," Davenport said. "He was kind of like the Bobby Knight of baseball at times but he was an outstanding teacher really, in to trying to develop his players."
Davenport likes "working with young guys with their eyes wide open" and turning them in to better baseball players by the time they leave.Davenport has had many good players come through his program and each year he gets to sort his way through new players and personalities.
"The best part of junior college is that these guys are all hungry to play more," Davenport said. "We are the start, not the end. Very few guys only play for two years and shut it down…We are dealing with the really motivated players."
This year's WolfPack baseball team is very motivated. After coming so close the past few years their coach has his sights set on the championship. But that's just the goal at the end of the season. Davenport knows it's a long season and many things can happen. His team is talented and wants to win. They have experience to lean on and a coach who knows the game as well as any other person on the field.
But they also know they'll see every opponent's best game.
"If you're thinking about how great you are, you're going to have your lunch handed to you very easily by teams who are prepared to play," Davenport said. "Because we have had some success here nationally, all the teams, especially in our region, will be amped up to play us."