Pomeroy ready to launch new soccer program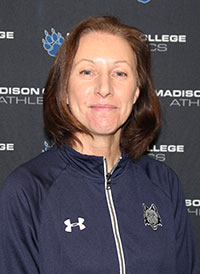 When you walk into the Redsten Gymnasium at Madison College's Truax campus, the banners are one of the first things you notice. In the rafters hang the numerous proud accomplishments of WolfPack sports programs, the most recent being the 2013 national championship won by the women's volleyball team. Madison College is a school that takes pride in its sports. So it is strange to hear that in its 102 years of existence, there has never been a women's soccer program.
However, progress has been made recently, and the decision was made in 2013 to include women's soccer into the culture of Madison College sports. To coach the WolfPack women in their inaugural season, the Madison College Athletic Department has hired Tory Pomeroy, a Mercer Island, Washington native and Wisconsin resident since 1996. Pomeroy has years of experience coaching college-level players in the Madison Area, including the Madison 56ers women's soccer club.
A common concern among college athletes is the issue of whether or not the personal aspects of their lives will be taken into consideration. As is the case with many larger, four-year programs such as UW-Madison, student athletes are often under considerable pressure from both athletic and academic obligations. Pomeroy's previous coaching experiences have prepared her for her transition to the junior college level, and have translated into a good understanding of what it is like to be a college athlete, she said.
"Once you commit to playing a sport outside of high school, that means you really enjoy the sport," Pomeroy said. "I work for the Madison 56ers soccer club and have been involved with their WPO program, which is all college students … I understand the intensity of what they are expected to do."
Much of Pomeroy's approach to coaching soccer stresses the importance of the relationship between school and athletics, and she has made it clear that she would like to strike a balance between the two. She said she does not want to keep opportunities from players who are taking heavy course loads, and plans to provide them with chances to play when they have time to commit to the program.
Pomeroy believes the relationship between sports and academics can even be a mutually beneficial one.
"I know that sports help students to bring focus, because you can have a really bad day in the classroom, or stuff that you just don't understand," she said. "What a perfect way to end your afternoon, to go out on a soccer field … play your sport, let it all go away for a while, and compete."
As is to be expected, Coach Pomeroy anticipates some challenges to come along with starting a soccer program from scratch. Right now, one of her biggest obstacles is time, Pomeroy said.
"(I need) to make sure that I have a very good environment set up for my roster," she said. "The only challenge I see is there's not going to be enough time in the day or in the week to do all of the things that I would like to get done. Right now I'm trying to gather in as many people as I can to help me."
Recruiting always proves to be a difficult task for any coach, especially when trying to establish a culture in which players would like to be a part of. However, this does not appear to be as much of an issue for Pomeroy, as the new women's soccer program will open up many opportunities for a metropolitan area that is brimming with young talent. Pomeroy's previous connections and the reputation of Madison College have helped considerably; they have already attracted attention from players outside of the Madison area, and throughout the state of Wisconsin. Word has also spread out of Wisconsin and into Illinois, and even across the border. One of the first contacts Pomeroy received upon being hired was sent in from Canada.
In her first season as head coach, Pomeroy said she hopes to finish strong in order to compete in the NJCAA women's soccer tournament this November, an opportunity which has been made available with the expansion of the North Central Community College Conference. She also said she hopes to build a fan base for her team, and she believes the new renovations at Truax campus will help draw in support.
"I don't think there will be any problem getting a fan base here, since we now can have our home competitions across the street," she said. "I want all the young people here … to come across the street and watch a WolfPack soccer game." Pomeroy said intramural sports are an important factor in creating fans, by helping foster a strong sense of community within the college through a shared passion for soccer.
"There needs to be an intramural soccer program here. Well, we're going to have one," she said. "You do it the same time of the year we play, so that you can come watch us play. That's the way to make sure that this is a Madison College family."
Madison College women's soccer will take the field for the first time on Aug. 27, against Triton College. Its inaugural home game will be against Milwaukee Area Technical College on Sept. 12.