Men's basketball finishes year with tough losses at home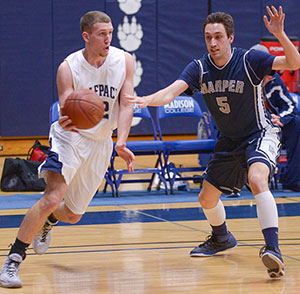 A disappointing regular season for the WolfPack men's basketball team ended with a surprisingly close loss two Fridays ago when Harper beat Madison College 84-79. Falling shots and a ton of extreme effort game kept the team in the game. A few weeks ago, Madison College played Harper at Harper, and lost by 30.
The first half started out poorly. After the WolfPack took an early lead, Harper went on a 16-0 run and looked to be running away with the game. However, with falling threes, lots of hustle and at least one lucky shot, Madison College tied the game up at 19. It was close from there as they entered half with a score of 43-38, Harper maintaining a tenuous lead.
The second half kicked off with another small run by Harper, but Madison College was quick on the uptake and responded, keeping the game as close as two points and no farther than eight.
As the game finished off, Madison College had every chance to come back and win it, but Harper proved too much and the WolfPack lost the final game of the season.
"I think obviously we 're disappointed with a loss, I mean I think we left a lot out on the floor and that could have been a win," said coach Scot Vesterdahl.
Sophomore forward Brandon Holz scored 20 points and had 13 rebounds for Madison College. Dan Jones added 19 points, while Shane Kanaman and Tanner Schieve both scored 12.
The loss capped off a 4-24 regular season.
"Obviously were disappointed with where we're at, but the whole point of it is to get better, to work through adversity," Vesterdahl said.
Madison College played Mid-Michigan Technical College in a playoff play-in game on Feb. 25 and lost 75-67 ending the team's year.
The WolfPack led the game, 37-31, at half but got outscored 44-30 in the second half. Holz scored 22 points for Madison College, while Schieve added 11 in the loss.