Shooting woes bring men's basketball losing streak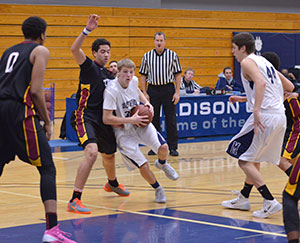 The Madison College men's basketball team continues to struggle as conference play begins. The WolfPack came into this season's conference opener against Triton College having lost its last five games.
During the first half of the game, an undersized Madison College team went toe to toe with Triton and entered the locker room down by only two points. The WolfPack seemed primed to deliver an upset but the game slipped away in the second half and the WolfPack wound up losing 69-53.
"They had size and athleticism on us at every position," head coach Scot Vesterdahl said about Triton.
Freshman guard Jeffry Cole cited communication issues as the major reason for the second-half meltdown.
"That was probably the key component to us not being able to pull out that win was not communicating with each other. And we're practicing that. The chemistry is getting a lot better, when we get chemistry is when we will be able to communicate with each other more" Cole said.
While size and communication were factors in the game, shooting was also major factor, with Madison College only scoring 53 points.
"Our problem was really when you score 53 points in a college game you're not winning very often," Vesterdahl said. "When you shoot 27 percent from the floor, you're not gonna win a lot of games."
The WolfPack's woes have continued as they followed they have now lost nine games in a row. Since the difficult game against Triton the team has had poor outings against Joliet, UW-Marathon and MATC Milwaukee.
Madison College's record now stands at 2-14 and 0-3 in the conference. The team's next game is at home on Jan. 22 against Rock Valley College.
Milwaukee Area Technical College 79, Madison College 69
In its most recent game on Jan. 15, the WolfPack fought to a four-point halftime lead against Milwaukee Area Technical College before falling, 79-69. Shane Kanaman came of the bench to lead Madison College in scoring with 20 points, hitting 7 of his 13 shot attempts. Brandon Holz and Tanner Schieve each added nine points for the WolfPack.
UW-Marathon County 64, Madison College 54.
Host Marathon County jumped to an 11-point halftime lead that Madison College was unable to overcome on Jan. 13. Holz led the team with 14 points, while Schieve added 10.
Joliet Junior College 73,  Madison College 59
On Jan. 11, after battling to within one point at halftime, Madison College hit just 18 percent of its shots in the second half (5 of 29) and quickly fell behind. Holz scored 16 points to lead the WolfPack.