Men's basketball team earns hard-fought win over Elgin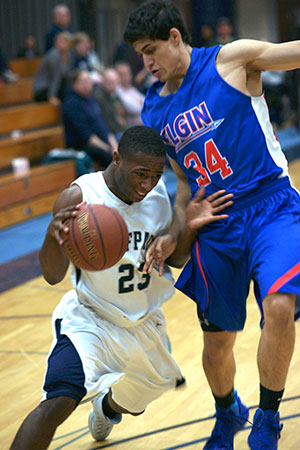 When you step out onto the floor, all that matters is whether your guys can beat theirs. That's exactly what happened last Wednesday when Madison College (2-5) upset Elgin Community College (4-6) by a score of 75-68 in men's basketball.
"We were fortunate to pick up a win against a good team who has had a nice schedule," coach Scot Versterdahl said.
Despite being the underdog, Madison College led for most of the game. Both teams came out swinging right from the start, with Elgin taking an early 5 point lead before the WolfPack fought their way back into the game.  The two teams traded blows the entire time but Madison's free throw shooting gave them a slight edge in the close contest.
A hot offense lessened the damage of the WolfPack's defensive flaws, which included problems dealing with the full court pressure applied by Elgin during the entire game.
"A lot of times teams when they put that kind of pressure on you, they're trying to speed you up, trying to get you take quick shots or throw the ball away, and sometimes when you're a young team like we are, you kind of get trapped in that," Vesterdahl said. Indeed, the WolfPack are a young team, featuring only four sophomores.
The WolfPack improved their play throughout the game and began applying more defensive pressure, having longer possessions and not allowing Elgin easy baskets. Vesterdahl denied that any adjustments were made during the half, insisting that the improvement was part of a pattern of this team improving every game.
The WolfPack's most consistent player was Brandon Holz, who finished with 18 points and 11 rebounds, his second double-double of the season. In addition, he was 5-6 on free throws, a team leading 83% among players with more than one trip to the line. Holz is one of a few players who helped put the game away by draining crucial free throws after Elgin closed within two points with under a minute to go in the game.
Despite their record, this game seemed to show positive signs that this young team is improving. Vesterdahl credits hard work and constant drilling for the improvement. He also believes this team has a lot of good talent.
"We think we're 10, 11, 12 guys deep, guys that can play which bodes well for this team heading into the future" Versterdahl said.