Soccer team starts year with 2 wins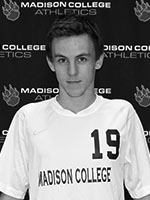 The men's soccer team has started 2-0 for the first time in six years. After a 1-15 season last year during which they were shut out 8 times, the WolfPack have come roaring out of the gate in 2013 after defeating Harper College 3-2 in their home opener.
"This win felt good," said Cory Sims, WolfPack coach, who is in his first year as head coach. "Although they almost gave me a heart attack"
Sims was referring to Harper College pulling within one goal with less than 10 minutes remaining in the game. However, the WolfPack managed to hold on and preserve a victory.
Harper College got on the board first with for a 1-0 lead but WolfPack freshman midfielder Eric Paeschke quickly responded with a goal of his own.
"Elliot Piper put it there in front of me and I just tapped it in with my foot," Paeschke said. "It was more him than me."
Paeschke scored again to put the WolfPack on top 2-1. Paeschke said Sims wanted them to score again and he obliged. A pass from the other side of the goal set up Marcos Meneses to put in a goal, putting Madison up 3-1 in the second half, the first time Madison has put of 3 goals since a 10-3 loss to Joliet in 2011.
Despite the score, Harper actually won time of possession, having the ball on the WolfPack's end for significantly longer periods of time than the WolfPack would. But the WolfPack held Harper defensively with plays all across the board, including several big plays by freshman forward Elliot Piper.
Offensively, Madison College struggled. Even though the WolfPack scored three goals, they also missed on several opportunities to score and the amount of time Harper spent on the WolfPack's side of the field limited their own chances of scoring. After the team broke through with scoring the three goals, Sims said he stressed the need to capitalize on opportunities and put pressure on the other team.  He also said despite the win, this team has a lot to work on going forward this season.
The last time Madison College was 2-0 was 2007. They finished with a 15-1-1 record going all the way to the district title game. The WolPack have seldom scored three goals in a win or even had one player score two goals in a game in recent years. The last time both were achieved in the same game was a playoff win against Milwaukee Area Technical College in 2009.
With one of the team's best starts in recent memory, Sims said he wanted to make this team respected as a place where 15 and 16 year olds would look at Madison College as a destination to play soccer in college.