Volleyball team prepared to storm its opposition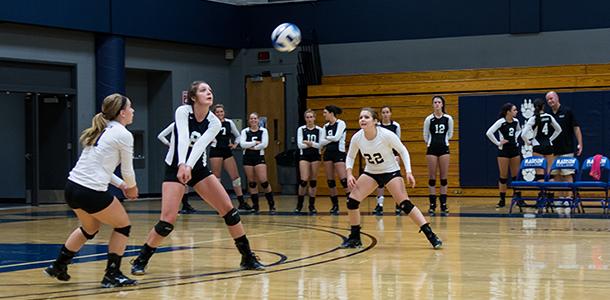 Nicholas Garton, Sports editor
August 26, 2013
Perhaps it was the mixture of old and new faces together on the volleyball court that had WolfPack coach Toby Parker in a reflective mood. With Parker looking on, several of his former players filed silently in to Redsten Gymnasium for an annual alumni volleyball game to take on the current Madison College team. Perhaps feeling nostalgic or maybe just needing a break from the action, Parker took a few moments to catch his breath off on a side court where he could see the familiar faces of teams past and the fresh faces of the present potential juggernaut.
"Every year we bring back old players and introduce them to the new team" Parker said of the alumni game. "They get a chance to see who is going to be carrying the torch this year. I imagine it is a walk down memory lane for the former players as well."
It was easy to see how Parker might wax nostalgic right before an alumni game. But his eyes are also fixed firmly on the present.
"We look very good. We returned five of six starters from a team that was ranked sixth in the nation and won a conference title. We have our most decorated recruiting class since I've been here."
Decorated might have been an understatement. The WolfPack are ranked No. 1 in the nation and are the preseason favorites to win the NJCAA national championship. Fifteen of the 16 players on this WolfPack roster were All-Conference in high school and one player, sophomore Terissa Bierd, was an honorable mention player on the national All-American team.
Although Parker wouldn't say it directly, one might infer from his tone, that the WolfPack are chomping at the bit for a chance to win a championship this year. The WolfPack's No. 1 national ranking has created quite a stir on the Madison College campus. The hype seems to be coming at just the right time, as Parker has worked tirelessly to make Madison College a national power. Now, it seems, all the work is about to pay off.
"Everything is coming together at the right time. We call it the perfect storm," Parker said.
At the center of the storm are sophomores Vanessa Clarson and Danielle Crawford. With the news of the WolfPack's No. 1 national ranking still ringing in their ears, both players made it clear that this season would be about acquiring more than just a ranking.
"Even if we weren't ranked No. 1, winning the national championship would still be our number one goal" Crawford said.
"It is exciting but it is just a preseason ranking" Clarson added. "We have to prove it. There are a lot of good teams this year. I guess we're just trying to live up to it."
Their first game is against Rock Valley, the defending national champions, and the word on the street is that the WolfPack players feel they need to make a statement in that game.
"We kind of had a rivalry with them last year and it will be exciting to see what we can do against them this year" Clarson said. Crawford added that it would be an opportunity to help the players gauge where they are as a team.
If the season opener against Rock Valley isn't enough to live up to this team's billing, don't worry- the WolfPack will have two other games against top 10 opponents this season.
As far as Coach Parker is concerned, however, this team has already proven everything they need to prove. Several of the former players participating in the alumni scrimmage said that they felt this was absolutely the best group Madison College has ever had.
Coach Parker says everything is in order and this team is ready. No one is happy about how last season ended but everyone is equally tired of talking about what this season might bring.
"We just have to focus on the small things right now" Clarson said.
The talk will all end in soon enough. The team dubbed the best group ever at Madison College will be ready, and Aug. 29 will be ready to storm the Redsten Gymnasium at 6 p.m.