Give a little: Packers play a different kind of ball for charity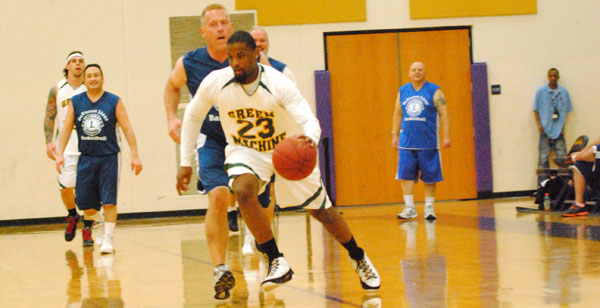 Jason Cuevas
Sports Editor
With the NFL season still months away many local fans are missing out on their much loved Green Bay Packers. While there may not have been any football being played, some fans recently got to enjoy watching the players they admire show off their athletic skills in a different manner.
On April 20, the DeForest Lions Club held a charity basketball game at DeForest high school. The matchup was between member of the lions and members of the Green Bay Packers.
"I'm happy to see two organizations working together to provide for those in need," said Miguel Ramirez, DeForest Lions Club President. "I think it's a great thing for a small club like the DeForest Lions Club to be able to partner up with an NFL organization, especially the Green Bay Packers. We are more than proud to have and them and welcome them to DeForest for this event."
The event featured door prizes donated by the Packers. There were multiple signed balls plus an Aaron Rodgers signed Jersey that seemed to be the most sought after item.  These were handed out at select stoppages throughout the game.
Wide Receiver James Jones was happy to come out and be a part of the event. He played basketball in high school and had a scholarship to play in college before ultimately deciding to play football. He runs his own charity with the website lovejones4kids.com
"We always play basketball down at the gym. We enjoy coming out here having some fun with the fans, shooting the ball around, we all have hoop dreams," Jones said.
The game itself was very lopsided. Unsurprisingly, the Lions Club did not have the same level of athleticism as the Packers. A good show was made for the audience with dunks and alley oops all around.
Children were brought in from the stands to shoot free throws in place of the players and do a little mingling with the athletes.
Kaden Wuebben was able to get his dad Rick to bring him to the event and had a smile on his face the whole time.
"It's great and it's great they're autographing," Wuebben said. "It's great that they are getting out here to help donate for kids who can't see very well."
During halftime, the players sat down at a table and gave autographs and chatted for a minute to everyone that wanted to do so. The line was quite long and a much longer halftime than is standard was needed to get everyone through.
Dana Entzminger attended with her daughter who was excited to get meet the players because she'd never had the chance to see them in person before.
"It's great, we're big packer fans. Have a bunch of memorabilia in our basement, so this is just great," Entzminger said.
The money raised will be donated to local organizations. Ramirez listed food pantries, the DeForest area need networks and the senior center among organizations they would like to donate to.
The Lions Club also does a great amount of work helping the blind and with blindness prevention. All money donated will stay in the community. The members of the Lions Club pay for all administrative costs and national donations.
The event was one of two major fundraisers that the DeForest Lions Club does each year. They also do a 4th of July raffle and chicken dinner at Fireman's Park.