Like Father, Like Son: WolfPack player has Major League teacher at home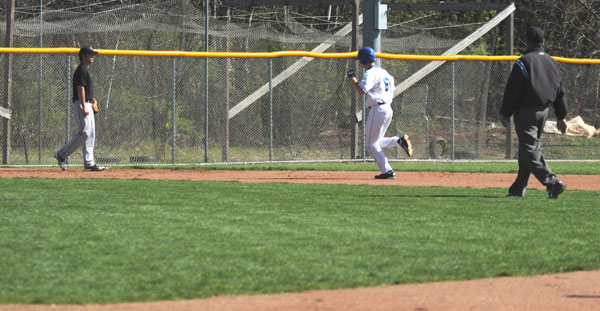 If he ever finds himself in a hitting slump, Madison College infielder Treysen Vavra knows right where to go for help – he'll talk to his father, Minnesota Twins hitting coach Joe Vavra. Treysen, who said he has been playing baseball since he could walk, admits having a professional hitting coach for a father "has its perks."
Joe Vavra has been with the Twins organization since 2002. He was named the hitting coach in October 2005. He has helped produce the sweet swings you see from MLB stars Joe Maurer and Justin Morneau. Treysen, having seen what his father can do with a professional hitter, says he likes to take advantage of his father's extensive knowledge on hitting.
"I just try to soak up all the advice he gives me," Treysen Vavra said.
Joe Vavra has been involved with professional baseball since he was drafted by the Los Angeles Dodgers with the eighth round pick in the June 1982 free agent draft. Treysen believes his father has had so much success over the years because of his work ethic.
"He is the first one at the park every day and the last one to leave," Treysen Vavra said. He also states that his dad loves what he does, and is a hard worker.
Baseball also runs in the family for the Vavra's. Treysen has an older brother, Tanner, who played for the WolfPack in 2010 and 2011 and has since transferred to Valparaiso University. Valparaiso is a Division I school whose baseball team plays in the highly competitive Horizon league.
"He is tearing it up," Treysen Vavra said. As of this issue Tanner is a starting middle infielder and owns a .319 batting average.
Tanner is a big reason Treysen came to Madison College. Treysen originally thought about playing hockey in Alaska, or playing baseball for the Minnesota Golden Gophers. However, after not receiving a scholarship offer, Tanner recruited his younger brother to play for the WolfPack.
"I came here because of Tanner, and the WolfPack's need for a corner infielder," he said. "You want to go where you're wanted."
It doesn't end there. Treysen also has a younger brother Terrin who has made his high school varsity baseball team as a freshman.
"We're hitters," he said.
Treysen doesn't necessarily have any set individual goals at this time. However, he still has one ultimate goal in mind.
"I just want to help my team win every game, and give our team the best chance to win. If I can do my job, it'll make it easier for everyone else to do their job, and hopefully pull out a W," he said. "Last year was tough, I expect us to get back to the [NJCAA] World Series and win it this year."
Madison College coach Mike Davenport holds a similar stance.
"The goal is to be ranked number 1 at the end of the year. Period," Davenport said.
Vavra plans on transferring to a 4-year college in the near future, having visited several DI and DII schools, but isn't thinking about that right now.