Volleyball starts new season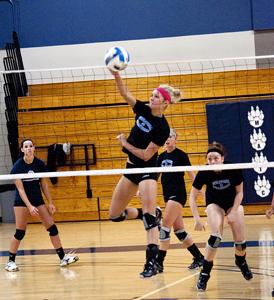 Knee pads pulled up. Hair tucked into ponytails. Welcome back Madison College WolfPack volleyball. The season started Aug. 26 and brought with it a pre-season ranking of number four in the nation.
"It's hard not to be excited and happy about that," said Toby Parker, WolfPack volleyball coach. "(We) don't pay too much attention though, because of a lot of things change quickly."
The team started the year with fewer players than originally anticipated, though it held tryouts on Sept. 2to fill some holes. Don't think that Parker uses that as an excuse for lesser expectations.
"Our program's goal each year is to get to the national tournament," Parker said. "I feel we are having our best period."
Parker notes that holding tryouts a little into the season, once school has started, brings good results. He mentions that the athletic department has really stepped up to increase awareness of the sport, but nothing replaces the students actually seeing things for themselves.
"Every year, you'll have a great athlete walk in," Parker said. "They'll see there's a gym. They'll see there's a team."
It's hard to argue with the recent results.
Last season the WolfPack was one match away from the national tournament and finished second in the conference, right behind Rock Valley College in both circumstances. Rock Valley comes into the season ranked fifth nationally.
Returning outside hitter Hannah Schwartzer said her second year on the team provides a different outlook.  She is ready for a fresh start this time around.
"Coming in the first year you don't really understand rivalries," Schwartzer said. She anticipates the matchups with Rock Valley and Harper College.  The plan is to be on top of everyone in the conference when the season comes to an end. "For me, that's the big one, being conference champs."
Madison College will have experience to rely on with Schwartzer and four other players returning from last year. They include setter Kirsten Halma, middle blocker Kate Jonas, defensive specialist Ashley Ponyicsanyi and libero Calli Dahl. All five players have been named team captains for the year showing that key contributions are expected from each.
One worry is that the WolfPack does not have the natural size of some other teams. This makes it more difficult to block shots at the net. Madison College feels their strong skills can offset any issues that arise from a lack of height.
"First line of defense is blocking. We're not big. We won't block a lot, but we'll dig plenty," Parker said.
A new season means fresh faces like defensive specialist Madison Milsap, who knew she definitely wanted to keep playing once high school ended. She has a friend who played on the team previously and is aware of the recent history with Rock Valley. The desire to beat them is "a lot to carry on your shoulders," she said.
Pressure or not, Milsap is enjoying the time with her new teammates. She said the relationship is "awesome, I love all of them. The second years have been so supportive."
The team received a good lesson on the trials possible this season Sept. 1.
They suffered a loss to the Joliet Junior College Wolves in the first game of conference play this season. Since 2008, the WolfPack never felt the taste of defeat against Joliet, but Joliet was finally able to separate themselves from the WolfPack.
"We didn't lose to Joliet, they beat us… took out years of aggression on us," Parker said.
The next day, Madison College was back in the gym, setting up the nets, ready to get back to the grind of practice. The WolfPack has a chance to seek some revenge on Sept. 29 when Joliet comes to Madison.