Softball team ready to finish strong despite struggles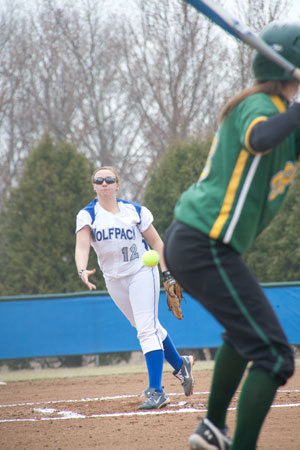 As the season comes to a close, the Madison Area Technical College softball team will look to finish strong. With all of their remaining games left at home, the coaching staff and team are hopeful of getting in the win column. The team, as of April 23, is winless with 23 losses.
Despite the lack of success, the team has a good attitude and is staying positive, according to coach Leo Kalinowski.
"You would think they are 22 and one," Kalinowski said.
Although the team is in good spirits, according to Kalinowski, the team is working as hard as ever to develop, learn, and get better.
"They put the work in, they want something out of it," Kalinowski said.
Although the coach blames deficiencies in defense as a main contributing factor for the lack of success, he admits that the weather hasn't helped much either. Throughout the season, five games have been rescheduled, one game was postponed, and another canceled due to weather conditions.
Whether or not the scattered schedule has contributed to a lack of momentum for the team, Kalinowski doesn't comment either way. Instead he looks to the future games with an optimistic approach.
"We have a good energy level. Anything can happen (in the postseason)," Kalinowski said.
With the regular season coming to an end, the coach expects to surprise some people come tournament time and possibly upset some teams.
As of April 23, the team faces games against three conference opponents. Their first challenge, the Golden Eagles of Rock Valley College, have only three wins on the season. The team's next opponent is the Harper College Lady Hawks, who have five wins with three of them coming against the Lady WolfPack. Their final conference contest will be against the Triton College Lady Trojans, who boast 12 wins on the season to 12 losses.
Despite the struggles of the team during the campaign, the coach has been impressed with his team's ability to show character throughout the season.
"They got a good attitude and chemistry. You don't see those characteristics on a team that doesn't have a victory," Kalinowski said.